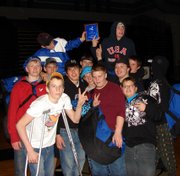 Meet results
Las Vegas Invite - Jan. 9 and 10
Individual results:
Weight Name Record Place
103 Cody Nelson 8-0 1
112 Kye Adams 2-1* retired
119 Asay Crofts 2-3* -
125 Ethan Kinner 7-0 1
130 Charlie Griffiths 8-0 1
135 Nathan Tomlin 8-1 3
140 Matt Linsacum 8-0 1
145 Scott Mann 3-4 -
152 Jesse Breslin 7-1 2
160 Troy Vernon 5-2 -
171 Cody Adams 3-4 -
189 No MCHS competitor
215 Ben Winslow 2-3* -
Hwt. Halen Raymond 1-3* -
* did not qualify for individual round
If this keeps up, future Bulldog opponents better watch out.
The Moffat County High School varsity wrestling team returned Sunday from its annual trip to Las Vegas - second-place trophy in tow - a confident and content bunch.
And why not?
The Bulldogs surpassed last season's finish at a tournament for the fourth consecutive event.
They placed second in the Survivor Series, second at the Union Invite, 21st at the Warrior Classic - each a better finish than in 2007-08 - adding a two-spot climb in Nevada to the list.
Moffat County placed fourth in the Las Vegas Invite last year.
"Hey, there's nothing wrong with that," Bulldogs coach Roman Gutierrez said of the team's finish. "We did better than we did last year."
The event kicked off with five dual meets Friday, all of which saw the Bulldogs come out on top.
Cody Nelson (103), Ethan Kinner (125), Charlie Griffiths (130), Nathan Tomlin (135), Matt Linsacum (140), Jesse Breslin (152) and Troy Vernon (160) each went undefeated, leading the Bulldogs to the team Pool win.
"We were 5-0," Gutierrez said. "The guys wrestled pretty well, and that qualified us for the individual tournament on Saturday."
Saturday, the event switched from a dual team format, to an individual free-for-all.
The top four wrestlers from each weight-class - both Pool A and Pool B - competed in an eight-man bracket for individual titles.
Nelson, Kinner, Griffiths and Linsacum were crowned champions of their respective weight classes.
Breslin finished second, while Tomlin worked his way to a third-place finish.
"We didn't finish everything off, as far as getting more kids into the finals," Gutierrez said. "But, they wrestled really well. The coaching staff thought we wrestled a little bit better than we did right before Christmas, and hopefully, we can keep that going."
The Bulldogs compete in the Green River Tournament beginning Friday in Utah.
Notes
Kye Adams (112), who competed with a broken nose, dislocated his kneecap and had to retire from the tournament during his third match. Gutierrez said his return is questionable.
John Vandelinder can be reached at 875-1793 or jvandelinder@craigdailypress.com