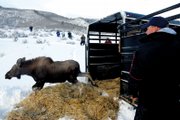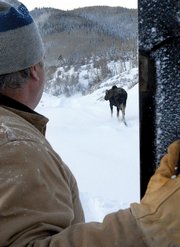 Jeff Madison stands among family, friends and colleagues and watches moose after moose run from the confines of cramped trailers into the open wilderness that surrounds the south fork of the White River.
Children squeal. Adults awe and snap photos.
The landscape east of Meeker is serene but for the moose's gallops.
As they distance themselves from their temporary holders - Colorado Division of Wildlife officers who spent the last three days transporting the animals from Utah to Colorado - the moose run to the bottom of an empty pasture, rendered blank by the white snow that covers the ground.
The setting is not lost on anyone, even Madison, who has seen it all before.
He retired from the DOW two years ago after three decades of service. Friday's moose release was part of a program he helped engineer as senior terrestrial biologist for Colorado's northwest region.
Nothing could ruin the moment, Madison said. Not even the moose themselves.
"They're amazing animals," he said as his eyes dart across the landscape. "We kid around they're so ugly that they're actually kind of charming. It warms your heart to get them back into spots like this."
Introduction, not reintroduction
The Flat Tops Wilderness Moose Introduction is not designed to bring Colorado back to its frontier days.
DOW Terrestrial Biologist Darby Finley said moose probably never were native to Colorado. However, the animals could be invaluable to the state's mission to increase its attractiveness to tourists.
In areas such as Walden, Kremmling and Grand Mesa National Forest, transplanted moose populations have brought wildlife watchers and hunters to local economies, Finley said.
The Flat Tops area - including land 20 miles east of Meeker, the site of Friday's drop - is the last hole in a new, contiguous moose habitat between the Poudre River west of Fort Collins and Grand Mesa.
He added that officials are not too worried about moose threatening the habitats of native animals. Moose diets have some overlap with other big game, such as elk, but not enough to compete directly.
Moose also don't breed in large numbers, which makes them more naturally containable, Finley said.
The DOW plans for about 150 to 200 moose at a maximum for the Meeker area. To get there, the agency transported 19 moose this year and hopes for another 20 in early 2010.
Combined, those two years will cost about $105,000, Finley said, which pays for transports, medical tests and tracking collars.
The DOW sought input from local landowners before proceeding with the project, Finley said.
"They were very excited about the project," he said. "It was received really well. If it wasn't, we may not have done it. We would have definitely had to do some more (public relations) work to justify why we should be putting moose here. That was always important to us (to get other groups on board), and it's been great working with the U.S. Forest Service and agencies in Utah."
More exciting than a desk job
DOW Wildlife Officer Mike Swaro, an officer in his 20s, has said he might never move away from Colorado, though his family hails from Ohio.
All the same, traveling to the Ogden, Utah area to wrangle moose for the transport is one of the highlights of his young career.
Much like the more seasoned Madison, Swaro said these moments are memorable.
"These are the days you wait for every year," Swaro said. "That's one of the cool things about this job. Everyday is different, and stuff like this is why I got into this job."
The mission was complex, but Swaro, Madison, Finley and the other officials were more excited than nervous.
Helicopter crews went out and shot moose with net guns, allowing so-called "muggers" to jump out of the hovering aircraft and tie up and blindfold the captured animals.
The pilots then flew the moose back to a base camp, where ground officers took them to a waiting trailer and released their ties.
"Then it was game-on and you have to get out of that trailer as fast as you could," Swaro said.
"It was cool," he added with a satisfied shrug. "I had a great time."
For next time, though, he said it would be nice to be in the helicopter.