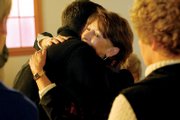 Craig — A long-time area prosecutor used part of her Friday morning to remove three framed degrees, reminders of a family heritage in law, from a wall in her office at the Moffat County Courthouse.
Printed on the degrees were the names: Carl H. Smith, a 1911 New York University graduate, Carl H. Smith, Jr., a 1958 University of Wyoming graduate, and finally, at the end of the line, Bonnie Smith Roesink, a 1986 University of Colorado law school graduate.
"I guess I can take these down now," Roesink, the 14th Judicial District Attorney, said about the law degrees earned by her grandfather and father, respectively.
The packing was among some of the final acts of Roesink's more than two-decades-long career as a prosecutor, all of which were spent in the tri-county 14th Judicial District.
A polarizing figure during her time with the District Attorney's Office, Roesink has been the target - and survivor - of two recall efforts, the center of criticisms for office turnover and a few controversial cases.
She's also been a leader in the effort to implement the Moffat County Drug Court system, a district attorney whose office has collected murder, drug distribution and sexual assault convictions, and an overall 22-year public servant.
If it sounds like a roller coaster of career ups and downs, especially in the past several years, Roesink would agree.
She began her career as a deputy district attorney in 1987 in the Craig office, was appointed district attorney by Gov. Bill Owens in 2003 and re-elected in an unopposed bid a year later.
She did not run for re-election in 2008, and her term is expiring.
Her last official act as district attorney comes Wednesday when she passes the torch to Elizabeth Oldham - her assistant district attorney and winner of the November general election - during a swearing in ceremony in Grand County.
"I feel like I've contributed in some way to my community," she said Friday, near the sunset of her career. "I'm very pleased I made that decision. Even with the bad parts, I'm glad I did it."
'Do the right thing'
Roesink's path to law wasn't traditional.
The daughter of a nurse, Roesink graduated pre-med in 1965 from the University of Wyoming with the intention of enrolling in medical school and becoming a doctor.
However, a woman interviewing her during the admissions process at the University of Colorado medical school warned her about the difficulties of being a doctor and having a family, and Roesink's desire to become a physician faded.
She spent the next 1 1/2 years mulling her future while working as a flight attendant for Braniff International Airways. She helped transport U.S. troops into Vietnam during the war.
In 1967, Roesink quit the airline and married a Braniff airlines pilot. They had a son, John, and she was a homemaker until her boy was 10 years old.
At 40, she drew on her family's history in law and enrolled at the University of Colorado.
In March 1987, she was interviewed and hired for the 14th's Craig office by then-District Attorney Greg Long, becoming one of only two prosecutors in the office.
Her beginning was less than storybook.
She remembers early setbacks such as losing a preliminary hearing on a bad check case and, later, an assault trial.
"But, I got better after that," she said. "I guess it clicked before too long."
After the other office prosecutor resigned, Roesink was the only deputy district attorney in Craig. For six months, she handled all of the Craig office's cases.
But, while the beginning was difficult, it also was invaluable in shaping the future. She came away with pieces of wise advice that she said stayed with her all these years.
"Treat everyone with respect, even the defendants that come into your office," she said. "I've always tried to tell my people to do that."
And the other:
"Do the right thing," she said. "That's what I've always tried to do, the right thing. : That's been the philosophy ever since I've been here. Sometimes it's very, very difficult. But I think it's extremely important.
Cases that 'wear on you'
When asked Friday about the most troubling case she's worked on as a prosecutor, Roesink asks to go off the record.
She relays a story she doesn't want in print, and one that is indeed difficult to stomach.
Her eyes go moist.
"I think cases," she said, "have gotten much more serious."
The most gnawing offenses revolve around crimes against children, she said.
"The kids," Roesink said. "Sexual assaults against children, child abuse. Those are just terrible. They take a lot out of you. They wear on you."
Watching the community be battered by methamphetamine hasn't been easy, either.
In the beginning of her career, there were drug cases, but nothing comparable to what meth has become to Moffat County, she said.
"It's the worst drug we've ever seen," said Roesink. "We've tried so hard to fight it."
She said her office has tried to take a hard line on distributors, and give second chances to the common user.
The drug court, which Roesink and others helped implement, is an attempt to make a dent in the meth problem. The court combines the judiciary and probation departments in a last-ditch effort to keep users out of prison and put them into treatment.
If she leaves a legacy behind, Roesink said, it's that she helped push the program through.
DA's office in good hands
The other part of her career that she takes the most pride in stems from the attorneys she has hired.
"I've had some incredible people work for me," Roesink said. "You don't find attorneys like that in most rural offices."
She was surrounded by some of those attorneys at a retirement party Friday afternoon at the Center of Craig, where friends, family and colleagues joined to bid her farewell.
Roesink mentioned Jon Pfeifer, a first-year Moffat County Court attorney.
"He is doing super," she said. "He is a really wonderful person."
She talked about Jeremy Snow, the office's felony prosecutor:
"I could see him : running (for district attorney) when (Oldham) was done. He's a great attorney, a wonderful trial attorney."
And she's also pleased that her assistant, Oldham, will be taking charge come Wednesday.
"She's going to do a great job," Roesink said. "A great job."
Roesink said she plans to take a year off before deciding what to do next. Volunteering or working as a mediator are two of several options, she said.
Politics, she added, isn't.
"I'm out of politics," she laughed. "I learned my lesson."
She also intends to spend time with her second husband, Dave Schwerin, an owner of Moffat Insurance, whom she married in 1990, and her mother, son and grandchildren in Denver.
All in all, through the career hits and misses, the criticisms and the praise, Roesink said it's rewarding to have gotten through it all, come out on the other side and today be able to exit on her own terms.
"It's bitter-sweet," Roesink said about leaving her law career behind. "I'll miss parts. But I'm glad to be moving on to something else."