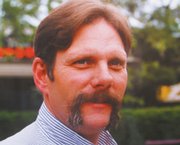 Denver — Rookie lawmaker Randy Baumgardner, of Hot Sulphur Springs, is finding his first week in the Colorado Legislature slightly daunting.
"You are so inundated with all the information, it's like drinking out of a fire hydrant," said Baumgardner, who took the oath of office as the House District 57 representative during opening day ceremonies Wednesday for the 67th session of the General Assembly.
It's been a season of firsts for the rancher and former Colorado Department of Transportation maintenance worker turned legislator.
For one, he's never lived in a city before.
"I grew up on a dairy farm in southern Indiana and have been involved with agriculture and animals all my life," said the 52-year-old Republican, who is renting a home in suburban Aurora for his 120-day stint in Denver.
He plans to commute home on weekends to his Grand County ranch, where he has lived since moving to Colorado in 1994.
Baumgardner's first bill was introduced Wednesday. He wants to change the system for distributing the revenue Colorado gets from energy exploration and development on federal land.
House Bill 1051 would require that federal mineral lease funds distributed to local governments through grants from the Department of Local Affairs be used instead for 10 years to pay for recommended roadway and bridge construction projects.
The bill was assigned to the Agriculture, Livestock and Natural Resources Committee, which is chaired by Rep. Kathleen Curry, D-Gunnison, a fierce defender of revenue going to local communities heavily impacted by energy development. It was not immediately scheduled for hearing.
Baumgardner's highway funding bill is expected to be one of several that legislators will consider this year to find money for deteriorating roads and bridges in the state.
"I expect it will be controversial," said Rep. Jerry Sonnenberg, R-Sterling, who's been assigned as Baumgardner's mentor during the early days of the session. "But I'm excited about having someone like Randy from a rural background in the legislature. When it comes to rural Colorado, farmers and ranchers are willing to dig in and get their hands dirty. I'm glad we have someone like Randy who's willing to step in and do that."
Baumgardner said he expects the real work to begin Monday, after the first few days of speeches. Gov. Bill Ritter's annual state-of-the-state message was scheduled Thursday before a joint session of the House and Senate, while Colorado Supreme Court Chief Justice Mary Mullarkey was scheduled to give a state of the judiciary report Friday.
District 8 Sen. Al White, R-Hayden, said if the opening day speeches Wednesday by the legislature's majority and minority party leaders seemed subdued, it's because lawmakers face the prospect of massive budget cuts.
"We're all kind of waiting and holding our breath to see what happens with revenue and meeting our constitutional mandate of having a balanced budget," said White, one of six members of the Joint Budget Committee. "This is a significant economic event that has huge potential to be more severe than in 2002-03, when there was a 25 percent reduction in general fund."
White also confirmed he had been approached about being Senate sponsor of a bill that could lead to a legislative study of the issues surrounding oil shale development on the Western Slope.
"I was given a draft and I'm looking at it," White said. "There are so many unknowns, things we don't know involving technology, water usage, surface disturbance, power needs, etc. Ultimately, it may be necessary, but I want to see if stakeholders are interested in moving forward at this time."
White said Shell Oil Co.'s filing for a water right on the Yampa River to support its oil shale exploration is just the first step in a long process of obtaining water.
"Filing it is one thing, perfecting it is another," said White about Shell's Dec. 30 filing in the Steamboat Springs-based water court. "It's one step in a number of processes that Shell will have to take to be a viable commercial oil shale producer in Colorado."