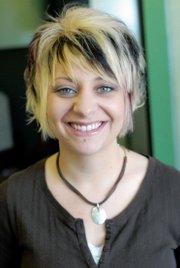 Craig — Age: 25
Occupation: Hair stylist
Place of birth: Glenwood Springs
What should your business card say you do?
Undercover sock thief
When did you move to Moffat County and what brought you here?
When I was 3, my parents moved here
Describe your morning routine?
Make coffee, bathe children and get dressed
What was the last movie you saw, and what did you think about it?
"Pineapple Express" and I thought it was funny
If you could go anywhere in the world, where would you go and why?
Hawaii, because it's always 80 degrees, and you can live on the beach
If you could invite any four people to dinner, who would they be, and what would you serve?
Tom Hanks, Jim Carrey, Edward Norton and Seth Rogan, and I don't know; it depends on what they like to eat.
What are three things you can't live without?
Kids, shoes and a good haircut
What is the first song on your "lost on a desert island" CD?
"99 Bottles of Beer on the Wall"
What music, book or movie are you ashamed to admit you love?
"Drop Dead Fred"
What would you do if you won $10 million?
Spread the love