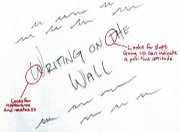 If you go
What: Handwriting analysis class
When: 5:30 p.m. Thursday
Where: Natural Health Care Center, 239 E. Victory Way
Cost: $20
• For more information, call 824-9696
Craig — Handwritten words tell a strange and sordid tale to Craig resident Jeanny Seely.
She notices telling irregularities in the sprawling cursive that makes up a letter some researchers think was written by Jack the Ripper, a notorious serial killer in Victorian England.
She points out the long, sloping ends of the f's and y's that extend to the lines below highlights and how the writer had applied alternately light and heavy pressure as he or she wrote.
The former trait is an indication of sexual deviancy, Seely said, while the latter points to mental instability.
At the top of the page, the author had written two words in the same scribbled, irregular cursive: "From hell."
The letter was never traced to the unidentified killer who committed some or all of the grisly murders in the late 1880 attributed to Jack the Ripper.
But to Seely, who picked up handwriting analysis about 20 years ago, the author's handwriting is a chilling indicator that he or she was capable of cruelty and perversion.
"What your mind does comes out in your fingertips," she said.
Reading 'brain print'
Seely studies graphology, or the study of handwriting, and asserts that the way a person writes is indicative of his or her personality.
"It can tell you an overall image of the person," she said, "and if they're depressed, if they're happy.
"It can tell you if they have barriers with people. It can tell you if they want a connection with people."
Aggression. Self-esteem. Drug, alcohol and sexual abuse.
The list of traits revealed in handwriting goes on, she said.
That's not to say graphology is a foolproof science.
Seely remembers once reading a man's handwriting that was exceptionally sloppy.
Usually, messy writing is an indicator of messy habits, she said.
But, that rule didn't apply in this case.
"He is meticulously clean, but his handwriting didn't show that," she said.
But, in her case, she added, misreadings are an exception, not the rule.
Graphology uses seemingly insignificant details about a person's handwriting, or "brain print," as Seely calls it, to gauge their mood and character at the time of writing.
For instance, large spaces between words can indicate the author likes his or her personal space, is generous or both.
When a person doesn't loop the tail of their y's, it could mean they don't follow through with projects or have unresolved trials in their past.
The way a writer shapes his or her y's is particularly suggestive. The tail of the letter is indicative of the author's id, or subconscious appetites. A large, looping 'y' can point to an exceptionally active libido, she said.
And, in Seely's opinion, it's no accident that hand-written signatures are considered a representation of a person on official documents.
"It is like your own identity," she said.
She plans to share her skill with other Craig residents next week.
Seely will host a handwriting analysis class at 5:30 p.m. Thursday at Natural Health Care Center, 239 E. Victory Way.
The session costs $20 a person.
Seely suggested handwriting analysis for a variety of individuals, from employers to single women wanting to learn more about potential beaus.
"It's easy to learn," she said. "In one session, you'll be surprised at how much you can read about a person."
Craig resident Katie Johnson plans to attend. Seely has analyzed her handwriting and those of Johnson's relatives.
Johnson was taken aback by the results.
Seely's analysis of Johnson's relatives' handwriting was revealing, Johnson said, indicating traces of depression and controlling natures.
"I was surprised because it was very accurate," she said.