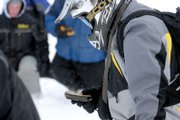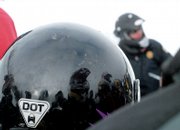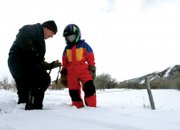 Craig — It comes down to a crucial 15 minutes.
Fifteen minutes is how long before a person caught in an avalanche asphyxiates, said Ron Dellacroce, park manager for Yampa River State Park and Elkhead Reservoir.
"Thirty percent of all avalanche victims die from blunt force trauma," Dellacroce said. "It's like you get thrown into the washing machine with a load of bricks."
Dellacroce's words came on a cold and snowy Saturday morning at the Freeman Reservoir trailhead to a crowd of more than 50 snowmobilers.
They huddled around Dellacroce as he conducted the annual class - an on-site tutorial about avalanche training and rescue - coordinated in conjunction with Colorado State Parks and the Northwest Colorado Snowmobile Club.
Dellacroce has taught the class for more than 12 years.
Stan Fox, president of the Northwest Colorado Snowmobile Club, said the class teaches information that is handy to have in difficult circumstances.
"There are a lot of people that don't have the first idea what to do when an avalanche comes along," Fox said.
The class focused on using a beacon, probe, snowshovel and other "little basic rules when you are trying to get your buddy out of the snow."
Fox attended the class with his son, Kody. Father and son are both avid snowmobilers.
Fox said this year's class was one of the best for attendance, and he attributed the numbers to numerous recent news reports of avalanches.
"I think a lot of it is, this year we've had some locals get hurt, and I think it hit home for a lot of people," Fox said.
Hayden resident Joe Turon, whose entire family are avid outdoor enthusiasts, attended the class and echoed those sentiments.
"This year with awareness of it, and the problems, I thought it would be good to know this stuff," Turon said.
Turon, a lifelong Northwest Colorado native, has experienced snowy conditions all his life.
"But, you can always stand to learn something from this, from guys that really have sat down to study this stuff," he said.
Dellacroce mentioned many warning signs to look for when out on the trails. Some things to watch for, he said, are:
• Signs of recent snow activities.
• Wind
• Snow cracking in front of the machine.
• A telltale "whoompf" sound.
• Rapid temperature changes.
Turon said the class was beneficial.
"I've been on a lot of terrain that I really didn't know the danger of," he said. "Until I listened to him and talked to him, there are places you don't go, but now I know why you don't go there."
Hans Hallgren can be reached at 875-1792 or at hhallgren@craigdailypress.com.