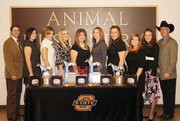 Craig — "You never know what another two years will bring."
These were Sarah Kawcak's words when she was asked to reflect on her professional plans two years down the line. That's when she will have completed work to receive a master's degree from Oklahoma State University in Stillwater, Okla. (Kawcak will begin work on her master's program in January.)
Back last spring when Kawcak talked about her approaching December 2008 graduation from Oklahoma State, she had decided to get her master's degree in reproduction physiology in cattle. But that was before she was assistant coach for the Collegiate OSU Horse Judging Team.
And that's not all. The team members now are reigning Horse Judging World Champions.
Now Kawcak, who received her bachelor's degree in animal science this past December, will focus on equine nutrition for her masters, and she's been offered an assistantship to boot.
Kawcak explained that an assistantship is like getting a "full-ride" scholarship. She will work in the Animal Science building half of the time and go to school half of the time.
"Work" will include a variety of jobs, one of which is doing just what Kawcak began this past semester. She'll continue as assistant coach for the OSU Horse Judging Team - only with a brand new team as each senior team can judge only one year.
The collegiate judging team is made up of five members. During judging competition, the lowest score is dropped. The team judges classes with four horses each and ranks them, according to learned criteria, first through fourth. Kawcak explained that team members give five or six sets of reasons at each competition.
According to Kawcak, the Horse Judging Team trains with live horses where possible but mostly uses a DVD where members can practice runs.
The team judges only quarter horse breeds with the exception of spring, when they judge the Paint Horse Sweepstake.
Judging areas include western riding, western pleasure, hunter under saddle, western horsemanship, reining, pleasure driving, and English equitation. Western horsemanship and English equitation classes are judged based off the rider rather than the horses.
Kawcak said that the team basically sticks to three fall U.S. Collegiate Competitions. At National Reining Futurity, held in Oklahoma City, teams judge reining and give no reasons. The American Quarter Horse Congress is held in Columbus, Ohio, and the American Quarter Horse World Championship Show is held in Oklahoma City.
After this year's competition, OSU is the reigning Intercollegiate Horse Judging World Champion. The team received first in halter placing, second in performance placing, and first in overall reasons.
In addition, OSU team member Amanda Burrows, of Claremore, Oklahoma, was named World Champion Judging Individual.
As for her studies in Equine Nutrition, Kawcak said that a person "could go anywhere" with the degree. Two possibilities are working at a race horse farm or for a major feed company, preparing feed rations for horses.
But, as Kawcak said, "You never know what another two years will bring."
Sarah Kawcak is the daughter of Frank and Reneta Kawcak, of Craig.