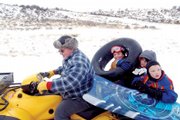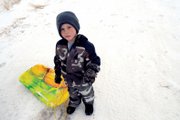 It's not that local people are unaware of the hill's history.
It's just that when Craig residents spend their afternoon sliding, snowboarding and often times falling down Cathy Cisar Hill, the thoughts running through their minds are anything but remorseful.
"All I'm thinking about is not crashing and not doing a face plant in the snow," 14-year-old Davis Smith said laughing. "It's the biggest hill in town, and boy, do you ever get a lot of speed."
A tragedy two days before Christmas in 1963 gave the hill its name - a sad moment that many who were enjoying the hill Friday always will think about.
"I've been coming up here for more than 20 years," Jim Vallem said as he prepared to tow his grandsons - Canyon and Jacob Vallem - and their friend Uriah Stepisnik, up the hill with his four-wheeler. "It's really sad how this place got its name, but it has become the safest and best place to take your kids for a good time sledding."
The hill - located at the west end of 12th Street - was originally built to accommodate sledding for small children and keep them from sledding on the streets. Cathy Cisar, whom the hill was named after, was killed in a sledding accident on the street.
Since then, the hill has gone through numerous makeovers.
A half-pipe was constructed in 1990 to coincide with the new craze in winter sports - snowboarding - and a towrope, bathrooms, lights and a warming shack were added, as well.
Now, the towrope is gone, the lights no longer work, and the warming shack is all closed up - Moffat County Parks and Recreation stopped maintaining the hill years ago.
But, that hasn't stopped local residents from having a blast.
"I come out here every year," Smith said. "It needs some work, but it's a lot of fun to come out here. It's a thrill."
Smith and his buddy, Chris Botkin, know all about Cathy Cisar and the history behind the hill.
They each looked to the ground when asked if they knew.
"Everybody knows about it," Botkin said. "We know it was her that made it (possible) for us."
Seriousness aside, the classmates were more focused on the task ahead, rather than dwelling on the past.
"I'm just thinking about not crashing or breaking my sled," Smith said.
"Too late for that," Botkin chimed in. "He broke one yesterday, and he did a face plant."
And with those last words, off they went.
Sliding down Cathy Cisar Hill.
Halfway down the hill, they hit a bump, caught some air, and did what they were trying to avoid.
A face plant.
John Vandelinder can be reached at 875-1793 or jvandelinder@craigdailypress.com