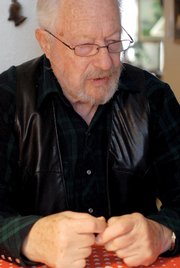 An aged man with a white beard and a low voice sits at a table, inches away from the woman sitting next to him.
Craig resident Herbert Parker, now in his 70s, has been many things in his life, including an English teacher and a chiropractor.
Now, however, he's something far different. Something far from conventional.
Something many might consider bizarre.
He's a "dowser."
In a process he calls "dowsing for past lives," Parker acts as a conduit through which other people's spirit guides, or a type of guardian angel, reveal details about their current and past existences.
Curiosity in the knowledge, or insight, that Parker offers is what brought the woman to his Craig home Wednesday. More than 20 other local people also have shown an interest in his teaching and have enrolled in his classes to seek self-awareness.
Parker and his visitor continue.
A card in front of Parker contains two quadrants. One is marked "yes," the other, "no."
He speaks aloud, asking a seemingly empty room, if the woman's spirit guide is present.
The pendulum swings over the quadrant.
"Yes."
He asks if she has a past life interfering with her previous one.
The pendulum swings.
"No."
It's a good sign for the woman. Parker believes trials not overcome in a past existence will continue to trouble a person in subsequent ones.
"If you keep on repeating the same lessons without learning anything : you're not only hurting yourself," he said. "You're (also) not progressing."
Parker doesn't always tell people what they want to hear.
"(People) like to hear about past lives and that they're going to live forever, which you do," he said. "But you know something?
"They're very reluctant to learn about their past lives."
He said his clients often fear they will discover past trespasses that will haunt them. Instead, people would rather hear hopeful predictions of what will happen to them after death.
But, Parker insists it doesn't work that way.
"You have to know about your past life so you can correct it," he said, "so you can understand it and let it go."
Existences he said he's uncovered during his 30-year career as a dowser of past lives range from a 5-year-old Holocaust victim to a Native American farmer in Mexico during the 1600s.
In many cases, Parker said, he has revealed struggles that people failed to reconcile in their past lives and that continue to trouble them.
He recalled one case involving a woman who habitually had landed into physically abusive relationships with men. He said he uncovered one of her past lives in which she had lived in 18th century England, where she left her husband and children and fled to America.
"When you do something like that : the guilt is tremendous :." he said. "She died with all that guilt. She brought it into this life."
Parker said he believes she was attracted to abusive men in a subconscious effort to atone for her past transgressions. But, after she came to grips with events in her prior life, Parker said she divorced her husband and became a counselor.
Parker believes he's had past lives but declined to speak about them.
Seeking an answer
An incident in Parker's early childhood sparked his interest in past lives.
When he was about 11 years old, his close friend was killed in a car accident. In the aftermath, Parker encountered something he hadn't before.
A fear of death.
"Who's more insecure than a kid who's never lived and he suddenly fears he might be killed or he might die?" he said.
Parker, who grew up in a Lutheran home in Brooklyn, N.Y., didn't find an answer he could accept in any mainline religion. In his view, the myriad of faiths he's explored don't give an accurate account of the soul's destination after death.
About 15 years passed after his friend's fatal accident before Parker's began researching reincarnation. After teaching high school English in Brooklyn, N.Y., for seven years, Parker took a sabbatical to teach in England.
"I always wanted to visit England," he said. "I never knew why."
At least, not at first.
Parker taught a variety of subjects at junior high and high schools around Oxford. When he wasn't in the classroom, he was exploring the area.
The people and surroundings seemed familiar. He felt entirely at home.
"I had the distinct feeling I had lived there before," he said.
That feeling triggered an interest in reincarnation. He began reading books and attending seminars on the possibility of living multiple lives.
Gradually, he became convinced that he and others live more than once.
After spending three years in England, Parker returned to the States. The burgeoning belief in reincarnation followed him home.
The final lesson
After finishing his 20-year teaching career, Parker became a chiropractor in upstate New York. In his practice, he encountered several patients that, despite all his efforts, weren't getting well. He decided to apply his spiritual belief to his most confounding cases.
Parker, now divorced, came to Moffat County six years ago in the latest step of his journey to teach willing residents about past lives.
Parker offers 10-week sessions on dowsing past lives that cost $10 a class or $100 total. He plans to start another round of sessions in February.
So far, 23 local residents have taken his classes.
Although he has moved away from offering individual readings recently, he won't refuse to conduct one if he believes a client has a problem he can help heal. These readings come at no charge to the client.
His services aren't limited to revealing past lives. Using another card and his pendulum, he said he also can discern a person's spiritual polarity, or how far along they are on their spiritual path.
Parker has seen his belief sometimes be met with skepticism from local residents. He keeps teaching because he is convinced people will benefit from what he has to offer.
In his view, earth is a massive classroom where individuals absorb lessons during the course of multiple lives.
The final lesson, according to his belief system, is summed up in one word: Love.
"Love is the key," he said. "How can you love somebody who doesn't love you?
"That's the hitch."
Yet, in his view, unconditional love is the last hurdle a person must overcome before he or she can be released from the cycle of reincarnation.
"When you learn that lesson to love everyone you no longer have to come back," Parker said.
A sign from void
Sitting at his kitchen table, Parker pulls out a card similar to the one he uses for dowsing past lives.
He sets the pendulum swinging over the half-circle on the page, which contains a scale from -10 to +10.
The pendulum veers slightly over the +1 mark.
That's good news for the woman sitting next to Parker. A +1 reading indicates that she's on the right path.
"You're starting to understand that the ego isn't that important," Parker said. "You're starting to see people as they truly are, and you're trying to help them."
In his way, Parker, too has tried to aid others, using three simple tools: a set of cards, a pendulum and an attentive ear to forces beyond the visible world.
Bridget Manley can be reached at 875-1795 or bmanley@craigdailypress.com