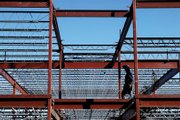 The end of a year always invites reflection, as we note the passing of time, remember what happened during the last 366 days and look to the future.
Many changes, events, celebrations and happenings were in the pages of the Craig Daily Press throughout 2008. What follows are a selection of the stories that greatly affected Craig and Moffat County, many of which will continue to affect city and county residents for years to come. Others found closure, or came close to it, in 2008.
Also in this issue, readers will find tributes to three late local residents who made impressions on the area, a photographer's look at favorite photos from 2008, the top 10 sports stories of the year and recaps of many movies released in the second half of 2008.
City's centennial
It's not every year that people can celebrate a 100th birthday.
And, Craig residents certainly celebrated in 2008 for the city's centennial.
With many scheduled events, including opening 50- and 30-year time capsule, a rock concert, AirFest, community barbecues, golf tournaments and traditional annual city festivals, the city showed that it knew how to party in its big year. There was a Craig Centennial coin, a beard-growing contest, a poster contest and more.
Opening the time capsule July 4 was a major centennial event. The capsules had remnants of lifetimes gone by, including written histories of the town's different organizations - from The Memorial Hospital to the Sun Dial Flower Club - and old newspaper articles, such as the recall effort against the Moffat County Commission for buying the land that would become Loudy-Simpson Park.
The event, sponsored by the Craig Centennial Committee, drew about 100 residents to Craig City Hall.
And 2,550 people attended the rock concert featuring Three Dog Night and Firefall.
The history of the city was in the spotlight all year, and the Daily Press teamed up with the Museum of Northwest Colorado for feature stories each week on people, businesses, buildings and events that played a role in the past 100 years of Craig.
One such story was about the city's journey to incorporation.
"As the young community of Craig continued to grow, many of its residents began to think that the area needed to "graduate" to the ranks of an incorporated town. As usually occurs in a democracy, some residents were against the incorporations, but most were in favor of taking this step of independence." (Saturday Morning Press, March 1, 2008)
Because the city residents chose to incorporate in 2008, residents had a major milestone to celebrate all this year.
Construction boom
Construction boomed in Craig in 2008, creating a wide assortment of now-completed and ongoing projects.
Bond issues passed in November 2007 paved the way for a new hospital, a new middle school and building upgrades throughout Moffat County School District.
Crews working on a new The Memorial Hospital began drilling piers to support the building's foundation in September. Structural steel installation followed in November.
While one Craig building began construction, another was torn down to make room for a newer facility.
Crews did demolition on the existing Craig Middle School building last summer to make room for a new middle school. The facility, still under construction, will house sixth-, seventh- and eighth-grade students.
In 2008, Colorado Northwestern Community College's Craig campus also began planning for new facilities.
In October, the college broke ground at its site west of Craig on a new career technical building and a residence hall, which are scheduled to open in fall of 2009.
CNCC plans to have an academic building completed on the site by fall 2011.
Local businesses also undertook construction projects in 2008.
Abbey Carpet and Flooring, Yampa Valley Bank and Mountain West Insurance & Financial Services, LLC all built new facilities. Construction also began on two new hotels: Candlewood Inn & Suites and Hampton Inn. The former has since opened, while the latter remains under construction.
Finally, work on the Frazier East annexation west of Craig began in November.
Casting ballots
Moffat County, with its 4-to-1 registered Republican to Democratic ratio, didn't change its stripes in the November general election, furthering cementing its status as a GOP stronghold.
Presidential candidate John McCain, loser at the state and national levels, earned a resounding victory in Moffat County, taking away 4,101 votes, or about 70 percent, to Barack Obama's 1,566 votes, or 26 percent.
At the local level, Moffat County re-elected incumbent Moffat County Commissioner Tom Gray, choosing him by a 3-to-1 margin against democratic challenger Lois Wymore.
This county also registered strong support for the Republican candidate in the 14th Judicial District Attorney's race.
Elizabeth Oldham, currently the 14th's assistant district attorney, earned 67 percent of the vote in Moffat County in her race against democrat Tammy Stewart, a Steamboat Springs resident and, at the time, an assistant Moffat County attorney.
Oldham went on to win the District Attorney's race, which also included votes from Routt and Grand counties.
ACET sweeps
In March, the All Crimes Enforcement Team, an area task force, conducted one of its biggest operations to date - a sweeping series of arrests stemming from an investigation into methamphetamine and cocaine distribution.
The end result of the arrests: convictions against 10 of the 11 suspects, with the final suspect scheduled for a five-day jury trial beginning Jan. 12 in Moffat County District Court.
ACET alleged the suspects operated one of the largest drug distribution networks in Northwest Colorado.
To date, sentences for the convictions - all of which were secured by the 14th Judicial District Attorney's Office - have totaled 46 years in prison and $30,000 in fines, costs and restitution.
ACET commander Garrett Wiggins said the arrests and successful prosecutions were a collaborative effort between the task force, local law enforcement, the District Attorney's Office and the community. He specifically praised community members who have called the task force about possible drug activity, and the District Attorney's Office for its handling of the cases.
Ultimately, he said the case was successful because the end result was making a dent in the distribution of drugs locally.
Major court cases
2008 was not without its flare for the dramatic in the Moffat County court system.
The case against Terry Hankins, a 71-year-old Craig man charged with first-degree murder and abuse of a corpse in connection with the death of his wife, 34-year-old Cynthia Hankins, also of Craig, originally was scheduled to be finished by now.
However, a seven-day motions hearing in September in Moffat County District Court, changed the whole complexion of the case.
Hankins' attorneys, public defenders Sheryl Uhlmann and Trevor McFee, were successful in getting three key statements suppressed and the trial location moved from Moffat County to Routt County.
Hankins, who has pleaded not guilty, was scheduled for a two-week trial beginning Dec. 1.
But, the 14th Judicial District Attorney's Office appealed to the Colorado Supreme Court a judge's ruling to suppress the statements Hankins made to investigators. Those statements included Hankins' recorded confessions to his wife's murder.
The case will not move forward until the Supreme Court hands down its ruling on the appeal.
Another case that was appealed this year was the controversial conviction of Rodney Culverwell, a Moffat County rancher who was found guilty of illegally killing wild game on his property.
After a two-week trial in District Court, a jury convicted Culverwell of four counts of willful destruction of big game, a Class 5 felony; four counts of illegal possession of wildlife, three counts of hunting without a license, and four counts of hunting out of season, all misdemeanors.
The charges and convictions stemmed from a Colorado Division of Wildlife investigation.
A judge sentenced Culverwell to 60 days in Moffat County Jail, two years' probation, 172 hours of community service and $19,567 in fines and fees.
His defense team, however, appealed the jury's decision to the Colorado Court of Appeals, and Culverwell's sentence has been delayed until that appeal has been heard.
Another ongoing case is the one against Carla Roloff, who is charged with two counts of distributing a schedule 2 controlled substance - a Class 3 felony.
The All Crimes Enforcement Team, an area task force, arrested her in June at her Dinosaur residence. Authorities reported that Roloff's arrest stemmed from undercover purchases, one of which allegedly occurred at Social Services' office in Dinosaur while she was on duty.
The case was most recently continued Dec. 18.
Health care centers
Health care became a focus point for several groups in 2008.
The Northwest Colorado Community Heath Center, housed within the Visiting Nurse Association at 745 Russell St., opened this year for local uninsured and underinsured patients.
All patients are admitted, regardless of ability to pay. Charges are based on a sliding scale dependent on a person's income. NCCHC, formerly known as Moffat County Care Clinic, is a primary care clinic serving Moffat County and surrounding areas. The clinic has been operated by the VNA since 2005. In August, the clinic received its designation as a federally qualified health center.
While one local health clinic was gearing up for operation, another received recognition for care it provided to residents.
The Craig Community VA Telehealth Clinic, which opened in September 2007, received the American Legion's Department of Colorado Caregiver of the Year award in August.
Telehealth services saved local veterans more than 250,000 miles and about $40,000 in fuel costs during the first six months of operations, said Gar Williams, American Legion Department of Colorado commander.
Without the facility, Northwest Colorado veterans would have to travel about seven hours round-trip to the Grand Junction VA Medical Center.