Girls basketball statistics
MCHS 53 D'Evelyn 49
Individual scoring:
DHS: Branson 0 0-0 0, Kalkus 0 0-0 0, K. Pittman 2 0-0 4, Neely 3 3-6 10, Battelli 0 0-0 0, R. Reinke 3 2-2 11, Horn 0 0-0 0, Maxwell 1 0-0 3, H. Reinke 3 5-5 12, Meggison 0 3-4 3, Reisenger 0 0-0 0, B. Pittman 2 0-2 6. Totals 14 (8) 13-17 49.
MCHS: Cleverly 0 0-0 0, Bauman 1 1-3 3, Snyder 0 0-0 0, Edington 6 3-4 21, Sanchez 0 8-8 8, Hathhorn 0 0-0 0, Nelson 4 1-6 11, Moser 0 0-0 0, Crofts 2 0-2 4, Ivers 0 0-0 0, Kawcak 2 0-0 4, Roberts 0 2-4 2. Totals 15 (8) 15-27 53.
Three-point baskets - D'Evelyn 8 (R. Reinke 3, B. Pittman 2, Neely, Maxwell, H. Reinke); Moffat County 8 (Edington 6, Nelson 2)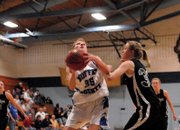 Thirty-two minutes just wasn't enough.
The Moffat County High School girls basketball team outscored visiting D'Evelyn, 10-6, in the first overtime period Friday night, pulling out a 53-49 Sweet 16-clinching victory.
"We just chipped away, clawed away and scratched out the win," MCHS coach Craig Mortensen said. "They girls are playing hard and working hard. This is absolutely what the high school basketball tournament is all about. We had a great crowd, and they got their money's worth."
Bulldog senior Courtney Edington drained six 3-pointers on her way to scoring a game-high 21 points in the win.
Alicia Nelson contributed 11, and Ariel Sanchez was perfect from the free throw line, finishing with eight points.
Three players scored in double figures to lead the Jaguar.
Holly Reinke tallied 12 points, Rachel Reinke closed with 11, and Madalyn Neely finished with 10.
"We have no reason to hang our heads," Jaguar coach Chris Olson said. "This team achieved a ton of great things this year. We won the most games in school history, broke the record for threes in a season and gave it our all. We'll be back again next year."
Moffat County clamped on the defensive pressure from the game's opening tip, holding the Jaguar scoreless the entire first period.
"I think we kind of surprised them with our pressure there early on," Mortensen said. "That's who we are. It was effective. They had a lot of turnovers, and it helped us set a tempo."
Alicia Nelson pitched in on both ends of the floor, scoring five points in the frame and held the Jaguar leading scorer Krystal Pittman (20.1 ppg) off the scoreboard until the fourth quarter.
Pittman also found herself in foul trouble early and sat out most of the second and third quarters.
"She's one of the best players in the state," Olson said. "That's why I'm so proud of the kids. They played really well without her."
Two free throws by Ariel Sanchez and a 3-pointer by Courtney Edington put the visitors up, 10-0, heading into the second period.
But, the Bulldogs' tempo didn't last long.
D'Evelyn broke through the Moffat County defense in the second, outscoring the Bulldogs by eight to close to within two points at the half, 20-18.
"We handled their pressure much better," Olson said about the second quarter turnaround. "We settled down and were able to run our offense."
A free throw by Holly Reinke pulled D'Evelyn within two, 22-20, and a 3-pointer by Neely pushed the fifth-seed Jaguar (18-7 overall, 8-4 Jefferson County League) to their first lead of the game, 23-22.
Edington answered with a three of her own, igniting a seesaw battle that saw five lead changes until the quarter ended with the Bulldogs on top, 33-31.
Pittman scored her first basket of the game to tie the contest, and a bucket by Neely put the visitors up two.
But, Edington struck again from downtown, refusing to let the visitors pull away.
"I just kept shooting," Edington said. "Mort told me to be a threat, so that's what I did."
Ahead by three with 29.1 seconds left in regulation, Moffat County couldn't hold on.
Holly Reinke was fouled on a layup and drained the free throw to complete the three-point play, tying the game, 43-43, with 17 seconds left.
Nelson had a chance to win the game in regulation from the free throw line but couldn't find the bottom of the net, sending the game into overtime.
"Either way, we weren't going to lose," Nelson said about missing the shots. "I was just hoping they would go in. I got in the zone, they just didn't fall."
D'Evelyn pulled ahead by four, 47-43, on Rachel Reinke's third 3-pointer of the night, but Nelson drained a bucket from downtown, closing the gap to one point with 2:25 to play in the extra frame.
"I think so," Nelson said about getting a bit of redemption by draining the shot from downtown after missing two potential game-winning free throws. "We just kept working hard. We had some ups and downs, but we came through and played as a team."
Senior Danette Crofts blocked a shot, igniting a fast break for Moffat County (16-8 overall, 12-2 Western Slope League).
Sanchez calmly knocked down two free throws, and the Bulldogs were back on top, 48-47.
Kylie Bauman made a bucket from the stripe and Crofts' rebound-put back extended Moffat County's lead to four, 51-47.
"When we got up four, I knew we had it," Edington said. "That first basket we made, I knew we had it."
The Bulldogs play the winner of No. 1 seed Broomfield (23-0) and No. 9 Castle View (10-13) in the Sweet 16 on Thursday.
Game time, and site, will be determined Sunday.
Notes:
The teams combined to make 13 shots from the field but drained 16 from beyond the arc.
John Vandelinder can be reached at 875-1793 or jvandelinder@craigdailypress.com