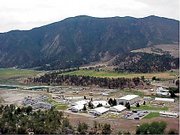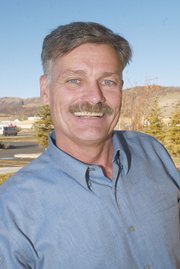 Dave Scherbarth, associate warden at Rifle Corrections Center, didn't know what to think when he learned Friday that his facility would be spared from the state's frenzied budget cuts.
The roughly 50 people who work under him were likewise at a loss.
They had, after all, spent the past month convinced they needed to find a new job because the prison was closing down, Scherbarth said.
"There's a lot of staff (at Rifle Corrections) that stood to take a major financial loss selling their house or (else) be without a job," Scherbarth said. "Trying to sell a house in the Parachute/Rifle area right now is not a position I'd like to be in."
Things seemed to turn in their favor when the story reached state Sen. Al White, R-Hayden, earlier this year.
He said he looked at the situation as a prime example of how the government can save jobs in tough economic times and not aggravate the problem.
"We need to diversify our economy so that when these oil and gas resources dry up, or when the companies leave the area as they're doing now, people still have a place to work," White said.
Rifle Corrections provided that diversification for the town it's named after, he added.
"This was important to my district," White said. "It's a stable, diversified employment base that serves a need in the Piceance Basin, which kind of largely lives and dies on oil and gas."
It was for those reasons he fought Gov. Bill Ritter's plan to close the facility and transfer its employees as part of a strategy to cut into the state's deficit, White said.
The deficit is large - projected to be about $1 billion through the next fiscal year from July 2009 to June 2010 - but transferring jobs affects a community the same as terminating them, White added.
The Northwest Colorado senator also has helped save funding for other programs he thinks are important, including $5 million for tourism, $2 million for a Denver children's hospital that accepts Medicaid patients and $2 million for the Meals on Wheels food program for seniors.
To balance the money in the state coffers, the Legislature plans to take $10 million from the Hazardous Substances Response Fund, White said. It's part of an overall strategy to prop up the Colorado government by transferring unused dollars, spending reserves and cutting expenditures until revenues return to normal.
State revenues have fallen off sharply since the current fiscal year began, generally because of the overall deadening of the national economy, White said.
"The state's revenue is dropping, mostly because people aren't out there spending, making income," he said. "Until our revenue recovers, we're going to have to keep making cuts. I don't know that the state can do anything (to raise revenue) independent of the rest of the U.S. and the world. It's a global problem."
The federal recovery package approved by Congress could help, but it likely won't accomplish anything permanent by itself, White said.
"It's a one-time kind of deal," he said. "It doesn't fix our problem of falling revenue. (The recovery package) will ensure us a way to start a run at state roads. They're already talking about a new energy economy. There are those things out there, but nobody knows exactly what it's going to be all about.
"I'm optimistic, but I think we're going to be in this for another one to two to three years."
Scherbarth is optimistic, too.
He said this experience has shown him that, even in modern times, America's political system works.
About 300 community members from around the region attended a community forum about the prison's closing, Scherbarth said. People started writing letters to the Legislature and, pretty soon, they started getting responses.
"I'm glad I don't have to sell my house now ... (and) I'm glad my staff doesn't have to go into the job market right now," Scherbarth said. "This showed that when the community bands together, things do happen."