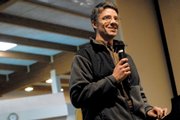 When the selection committee for the KRAI/Craig Daily Press Citizen of the Year award met earlier this month to discuss potential award winners, committee members quickly formed a list with about 25 names.
Members kept coming back to one name more than others: Betsy Peck, a longtime resident and community volunteer.
"This is one name who stands out above the crowd," Daily Press publisher Bryce Jacobson said to an audience of about 140 at Tuesday night's 2009 State of the County address.
Peck, 68, a Moffat County resident for the past 43 years, was vacationing in Hawaii and unable to accept the award in person Tuesday night. Her son, Kevin Peck, also of Craig, accepted the prize on behalf of his mother.
If Betsy Peck had been available, Kevin said she would have been "reluctant" to take home the distinction because "she doesn't want to be recognized."
Her son knows his mom pretty well.
Early in a telephone conversation with her from Hawaii, she said about the same thing.
"I don't really like to be recognized individually," Betsy said late last week. "I just like to do things. Getting credit for it is kind of embarrassing to me."
Betsy, who moved to Craig in 1965, has volunteered for several causes and organizations during her time in the community, including the library at Ridgeview Elementary School, the Moffat County Libraries board, Moffat County Housing Authority and a Moffat County election judge, among others.
In 2002, she founded the Christmas for Seniors, a non-profit program that provides holiday gifts to anyone locally older than 65. In 2007, the program provided about 225 people with gifts, and last year, it was more than 210 people.
"I realized on a Christmas Day one time that a lot of people didn't have anything to open and nobody to come see them," Betsy said about starting the program. "I thought, 'I can make a difference.'"
A junior high and high school teacher for about five years in the 1960s, Betsy still dabbles in education by working periodically at Ridgeview.
"I'll stay out there until they kick me out the door," she joked.
Betsy said her efforts in serving the community are a direct reflection of her feelings for the community.
"I love Craig so much," she said. "It's been a wonderful place for me and my family. It's been home, and that's why I do the things I do."
She said she'd like to see others get involved with community causes and efforts.
The payback for doing so outweighs the effort, she added.
"Volunteering is so rewarding," Betsy said. "People don't have to do a lot. It is so rewarding to help people out. I wish more people had the inclination and time to help."