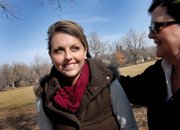 Standing in a hospital hundreds of miles from home Jan. 29, with the "baby of the family" suffering from a rare disease, Craig residents Joann and Gary Hudish heard words every parent fears.
Their child, 20-year-old Summer Hudish, a petite, brown-haired girl with blue eyes and an easy smile, had perhaps seven days to live. She needed a liver transplant to survive, a doctor told Joann.
"It was just really, really bad," said Joann, her voice trembling and words cracking at the memory. She paused and added, "I didn't leave her side for even five seconds."
Just days before, Summer had been a happy, regular college student at the University of Colorado. A 2007 Moffat County High School graduate and a CU sophomore, she was an integrative physiology major, hoping to someday become an optometrist.
Those studies have been temporarily derailed. The traumatic, frightening ordeal Summer and her family experienced the past few weeks saw to that.
Throughout January, the normally healthy Summer had been feeling ill.
Her stomach ached, and the whites of her eyes began turning yellow. When examining her, a doctor in Boulder suspected the cause behind her illness - Wilson's disease.
According to the Mayo Clinic - where some of Summer's blood work was sent - Wilson's disease is an inherited disorder that causes too much copper to accumulate in the liver, brain and other vital organs.
Wilson's disease, as with the case of Summer, can remain silent for years.
When not eliminated properly, copper can accumulate to a possibly life-threatening level, according to the clinic's Web site.
It is estimated the disease occurs in 1 in 30,000 to 40,000 people, doctors told the Hudish family.
On Jan. 26, as Summer's condition worsened, she was admitted to Boulder Community Hospital.
"Everything in her body was malfunctioning," Joann said. "She was sort of fading away. She was near death."
Doctors said Summer should have had about 60 to 80 micrograms per microliter of copper in her body. At one point, Joann said, she had more than 8,000.
On Jan. 29, Summer was transferred from Boulder Community to The University of Colorado Hospital in Denver.
There, doctors gave Summer's parents and her three older brothers, Tyler, 28, Grant, 24, and Myles, 21, the news that Summer would need a transplant.
Looking back on the experience, Joann said the family made it through the trying times with the prayers of friends and other family members, and by leaning on each other. "We just all kind of came together," she said, "and stayed together."
Summer was placed at the top of the transplant list.
Because of her age and the circumstances behind her disease, Summer was listed 1A, meaning she'd be first in a seven-state region to receive a new liver.
"This was no fault of (her) own," Joann said. "She had done nothing to get this sickness. : They weren't going to take anything but the youngest, best liver they could find.
After 10 difficult, uncertain days in the hospital, the Hudish family received news it had been hoping for: their daughter and sister would be getting a new, healthy organ.
"It was like Christmas day and the scariest day of my life," Joann said. "Reality had hit: This is going to happen. : At the same time, she'll live. She'll have another chance at life."
Doctors performed the procedure Feb. 11.
Estimated to take seven hours, it lasted just three-and-a-half. Summer's family, seated in the waiting room, heard from the doctors a short time after the transplant ended.
"They said it went great," Joann said, adding that Summer's age and good physical condition helped the procedure go more smoothly. "They said Summer's body was small, but healthy."
Since the transplant, Summer has had to undergo routine doctor's visits and once was re-admitted to the hospital as a precaution. Her mother, who has been staying with Summer at her Boulder apartment, keeps close tabs on her daughter.
Doctors have told the family Summer will have to take anti-rejection medicine for the rest of her life. She will be monitored closely by physicians for the rest of her days and will have certain restrictions on her diet.
But there's no reason she can't live to be an old woman, Joann said.
As for Summer, she's been shook up a bit by the experience, as well.
All that she's gone through - from the shock of the diagnosis to the possibility of dying to undergoing a transplant - hasn't quite set in yet.
"It's been scary and surreal to me," she said Friday. "I guess it's just weird because I was just a regular college student going about my life and all of the sudden, I need a transplant."
That her survival came at the cost of another person's death - her liver came from a 23-year-old Missouri man - isn't lost on her. She doesn't know who the man was or the circumstances of his death, but Summer said she thinks about the man and his family.
"It's very emotional to me because of the circumstance (that) he had to die for me to live," she said.
She's not treating the donor's gift to her lightly. Although she will be allowed to drink alcohol with her new liver, once she's of age, Summer said that's not something she'll do.
"It would be disrespectful to hurt this liver in any way," she said, "because somebody had to die for me to have it."
Summer will be spending the next several weeks in Boulder, attending doctor's appointments. She had to withdraw from spring semester and will come home to Craig at the end of March, before returning to school for the fall semester.
A devoted student who earns A's and B's, Summer said she's committed to getting back to CU to finish her education.
Wherever she goes, her mother will be thinking of her constantly.
"I tell Summer every day this hurt me more than it hurt her," Joann said. ": I, as her mother, don't ever feel she'll be out of the woods. : Instead of calling her once a day, I'll probably call her three or four times a day."
Today, the family is relieved knowing Summer is getting her health back and will someday shine again.
"We thought we were going to lose her," said Joann, with tears behind her voice, "and now we have her back."
Joshua Roberts can be reached at 875-1791, or jroberts@craigdailypress.com.