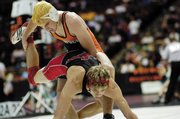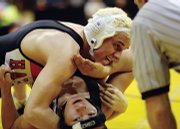 Denver — Victory seemed to be slipping away from Hayden wrestlers every way imaginable.
Mitch VeDepo and Koleman Williams were pinned after leading in their matches, cast into the consolation bracket of this weekend's Class 2A state wrestling tournament thanks to a momentary loss of focus or a minor mistake.
Nick Williams, meanwhile, was matched up against one of the best in the state, and while he avoided a pin, he couldn't obtain the win and lost 16-0.
The team's fortunes changed quickly.
Hayden senior Jake Magee trailed 3-2 early in his match against Choncey Taylor, of Burlington, one of the top wrestlers in the 152-pound weight class. Magee caught Taylor with a move, however, and, just 14 seconds into the second round, ended the match with a pin.
"I was nervous and excited," Magee said. "After the first period, I knew I could wrestle with him. In the second period, I threw in a leg, and he reached back. That's one thing you don't do. You don't reach back.
"I locked him up with a guillotine, and it was over."
He joined four other Tigers in advancing to today's quarterfinals at the tournament in Denver's Pepsi Center.
"It was a tough first round," Hayden coach Ty Zabel said, "but we got five of nine in. That's pretty good."
Freshman Chad Terry at 103 pounds, seniors Mitch Doolin and Coy Letlow, wrestling at 160 and 189 pounds, respectively, and sophomore Treyben Letlow at 215 pounds also advanced.
Terry opened the competition with a quick, dominating win. He slammed Tanner Watkins, of Cripple Creek, 1 minute, 4 seconds into the first period, advancing to wrestle today against Miguel Torres, of Burlington.
"Chad came out like a ball of fire," Zabel said. "He's a freshman, and he was nervous, but he channeled it the right way. He was awesome."
His win was matched in drama only by Magee's, which came after four consecutive Hayden losses.
Scott Armbruster lost 8-3 to Ricky Long of Rocky Ford, Nick Williams struggled against Casey Haga, of Ignacio, at 125 pounds, and VeDepo lost position late in the first period.
VeDepo, a senior who struggled last week at regionals with an elbow injury, built a quick 4-2 lead but got wrapped up and pulled into a cradle, his knees pushed back against his stomach and his shoulders hovering perilously close to the mat. He fought the pin off for nearly 20 seconds, but his opponent, Trent McEwen, didn't relent and won the match.
Koleman Williams then lost almost the same way. He took a 7-3 lead late in the first period but was pinned midway through the second.
"We were in good shape with Mitch, but we pulled a stupid move," Zabel said. "That one hurt. Then, with Koleman, it was the same kind of thing. It just goes to show you, once you get here, you can't lose focus for a second."
Hayden's remaining wrestlers breezed through their matches after Magee got the team back on track.
Doolin was aggressive from the start and dispatched Jason Dominquez with 53 seconds remaining in the first period.
Coy Letlow followed that up with a second-round pin of Josh Larson, of Flemming. Letlow gave up an early takedown and trailed 2-0 but was ahead 6-2 when he put the finishing touches on the win.
Treyben Letlow won his match against Nate Merkley, of Mountain Valley, at 1:09 into the first round.
"I had a wizard in, then he raised his head up, and I pancaked him to his back and put him in a headlock," Treyben Letlow said about the final move of his day. "It went pretty smooth."
The state quarterfinals start at 10 a.m. today. Action in the consolation bracket will follow immediately after the round is finished. The second consolation round begins at 5:45 p.m. The semifinals start at 7:15 p.m.