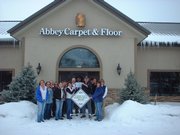 Today
8:30 to 10 a.m. Senior swimnastics is at the American Legion Post 62 pool, 1055 Moffat County Road 7. Call 824-3625.
10 and 11:30 a.m. The Craig branch of Moffat County Libraries, 570 Green St., hosts story time in the children's room. The theme is Presidents Day/Abraham Lincoln's 200th birthday. Library staff requests that attendees arrive 10 minutes early. Call 824-5116 for more information.
5:30 p.m. A free tax workshop for Spanish-speaking immigrants takes place at the Comunidad Integrada office, 718 Oak St., in Steamboat Springs. Call Comunidad Integrada at 871-4599 or 824-6424.
Friday, Feb. 20
8:30 to 10 a.m. Senior swimnastics is at the American Legion Post 62 pool, 1055 Moffat County Road 7. Call 824-3625.
5 p.m. The Elks Lodge, 43 W. Victory Way, hosts bingo. Doors open at 5 p.m. Games begin at 6:15 p.m. Call Frank at 824-6131 or 620-0874.
7 p.m. Fellowship Group of Alcoholics Anonymous meets at 80 W. Fourth St. Call 326-6646.
Saturday, Feb. 21
8 a.m. to noon. The Colorado Division of Wildlife hosts a youth fishing day at Little Rascal Pond behind the Moffat County Public Safety Center. The event is open to anyone ages 16 or younger, and the DOW will provide all fishing equipment. Call the Meeker office at 970-878-6090 for more information.
11 a.m. to noon
The Vermillion Chapter of the Colorado Archaeological Society presents "Archaeology of the Sand Wash Basin" by Robyn Watkins Morris, of the Bureau of Land Management-Little Snake Field Office, at the Museum of Northwest Colorado. Call 826-5095.
1 to 2 p.m. SHARE Craig distribution day takes place at St. Michael Catholic Church, 678 School St. Orders may be picked up at this time. Call Karen at 824-7939.
Sunday, Feb. 22
1:30 p.m. The Veterans of Foreign Wars hosts bingo at the VFW Hall, 419 E. Victory Way. For more information, call Dave Walters at 824-2923.
5 p.m. Local 1799 United Mine Workers Association meets at the Center of Craig. Call Francis Lux at 824-4134.
7 to 9 p.m. Adult coed soccer takes place at the Boys & Girls Club of Craig, 1324 E. Highway 40. Flat tennis shoes and shin guards are required. The cost is $2 per player. Call Bill Sawer at 824-0116.
Monday, Feb. 23
Noon. Al Anon meeting at First Congregational United Church of Christ, 630 Green St., in the library, for relatives and friends of alcoholics and addicts.