Photo Gallery
Craig Mortensen through the years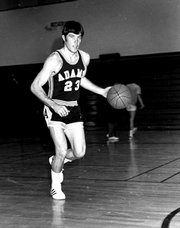 By the numbers
17 league championships
11 state tournament appearances
3 Sweet 16 appearances
2 Great 8 appearances
1 Final Four bid
263 wins as boys coach
237 wins as girls coach
251 number of career losses
Craig Mortensen's career varsity basketball coaching record
McClave High School
1974-74 6-13
1974-75 2-16
1975-76 Did not coach
Moffat County High School - boys
1977-77 17-6
1977-78 9-9
1978-79 8-10
1979-80 9-10
1980-81 14-9
1981-82 15-3
1982-83 12-6
1983-84 18-5
1984-85 20-2
1985-86 19-3
1986-87 16-3
1987-88 14-6
1988-89 20-3
1989-90 12-8
1990-91 10-10
1991-92 12-10
1992-93 7-13
1993-94 9-12
1994-95 14-7
Moffat County High School - girls
1995-96 8-15
1996-97 7-13
1997-98 13-9
1998-99 13-7
1999-00 16-5
2000-01 20-4
2001-02 21-4
2002-03 18-5
2003-04 16-7
2004-05 22-2
2005-06 25-1
2006-07 22-3
2007-08 22-4
2008-09 14-8*
Career record: 500-251
Career winning percentage: .666
*games remaining in schedule
The final buzzer at the conclusion of Tuesday night's girls basketball game signaled something more than just a victory against rival Steamboat Springs.
It signaled a milestone achievement in the career of longtime head coach Craig Mortensen, MCHS' hoops boss for the last 32 years.
That achievement - Mortensen's 500th career coaching win - had gone largely unrecognized. Mostly, because of Mortensen himself.
"An accomplishment like this is not just me," said Mortensen, who has coached the boys and girls varsity teams during his three-plus decade career. "It's about everybody. I've had tons of assistant coaches, and I've had good administrative backing. No coach can ever stay in coaching very long if they don't have good administrative backing.
"This is really a team thing. It's not a me thing."
Before Tuesday's game, it would be tough to tell whether the game meant anything more than another regular season contest for the coach. He described 500 wins as "no big deal," and said it "wasn't really important."
His reason:
"I just don't want the girls to feel any pressure about it," he said. "I don't want them to know and think they have to do something that they don't."
Now, however, his team knows. So do others. A lot of others.
1 - Eye opener
The road to 500 wasn't easy.
It took Mortensen through four decades, five different high school classifications and trips across nearly the entire state.
His path to coaching began at his alma mater, Adams State College. As a walk on, he started at point guard his sophomore year.
Starting, he said, came with a price: He spent a lot of time on the hardwood the year before.
"I bet I played 60 games my freshman year," he said. "And then I played on a church team and got maybe another 10 games. I played a lot of ball that year, and that's when I really learned a lot about the game."
With the seeds of hoops knowledge planted, Mortensen took on his first head coaching position in 1973 at 1A McClave High School. There, he inherited a boys team that hadn't won a game in four years.
"They weren't a very good team then," he said. "It was such an eye-opener. I used to go scout a team and think 'Oh, they are horrible' and then they'd beat us by 20."
But, Mortensen's life was changing, and so was the future of McClave's basketball program.
Mortensen soon married Margie - his high school sweetheart - and he was happy on the court and away from it in McClave. Margie, it should be noted, to this day keeps every newspaper article featuring her husband logged away in scrapbooks.
"Those were some of the best years I've ever had," he said. "Margie and I were newlyweds. It was a pretty good life. It was a really good life."
Mortensen led McClave to its first victory of the 1970s in his first year, and the team eventually finished 6-13.
"I've probably never worked so hard in my life in coaching as I did in that first year," he said. "It was tough trying to figure out how to help the kids, teach the fundamentals and learn how to motivate.
"It's a lot more than X's and O's."
100 - Hardwood classroom
Mortensen, who stayed one more season at McClave, earning a 2-16 record, accepted the vacant boys head coaching position at MCHS, a 2A school, in 1976.
Owner of a less-than-spectacular 8-29 career record, Mortensen was about to experience what would become a constant throughout his coaching career - success.
He guided the Bulldogs to a 17-6 record and the Northwestern League Championship in year one.
Switching classifications from 2A to independent to 3A had little effect on Mortensen's squads, which racked up wins year after year.
In the 1980-81 season, Mortensen led a team to the state tournament for the first time.
"I wouldn't say they were my favorite, but the team I would say was the most significant, is the team that helped me stay in coaching," he said. ": I just wanted to win so bad that the losses (20 total the previous two seasons) were just kind of eating me up. I had a good group of kids and I thought, 'If I can't enjoy the kids, whether we win or lose, then I need to get out of coaching.'
"And that's kind of when I changed my philosophy - I still hated losing - but I really started coaching for the love of the kids, and for the love of the game, and that's when it turned around."
John Haddan played on the 1980-81 team.
"The beautiful thing about that year was that nobody on our team was selfish," said Haddan, who lives in Craig. "Everybody just really got along with each other. Nobody cared who scored, the team chemistry was really good, and Mortensen was the reason that all came together."
By his 10th season, Mortensen had won 100 games, two league championships and guided two teams to the state tournament.
200 - Building a system
It took Mortensen six years, five league championships and three more state tournament berths to reach 200.
By then, the seasoned coach had a style in place.
"It wasn't a style geared toward winning and losing but about doing the best you can and the other stuff will follow," he said.
"Other stuff" included exhilarating wins.
"We beat Harrison (in 1989) here at home, and our stands were packed," Mortensen said. "They came to our house, and we were down nine at the start of the fourth. We came back and won."
And heartbreaking losses.
"I think one of the most disheartening losses was in 2001," he said. "That was the first year of the new bracketing. We traveled to Pueblo East on a Tuesday and beat them, then had to go play Widefield, who was No. 2 in the state, Thursday. We had them down and had two or three bad possessions, and we let it get away from us. They finished second in the state that year, and we had them."
300 - Change
It was the 1990s and times were changing. The game was faster, the players bigger. Boys could dunk. They wanted to be "like Mike."
MCHS was changing, too.
It had become a 4A school in the Western Slope League.
At the end of the 1994-95 season, the veteran coach changed with the times.
He had 263 wins as MCHS boys coach, but it was time for something different.
"You know, actually, I thought I'd be in Craig a couple of years and move on," Mortensen said. "I wanted to move up the coaching ladder, but the wins didn't come as plentiful the first three or four years. And really, Moffat County has just been a great place to be. It's been a great place to coach."
Although Mortensen indeed would be changing teams, it wasn't from high school to college. He made the move to coaching the MCHS girls team.
"Really, what I wanted to do was watch my daughters play," he said. "And the second thing I thought of was, my first 12 years in Craig, the girls went through 11 different head coaches. The program was just in shambles.
"I followed my heart, and my heart was with my family and my daughters, so I made that decision."
He picked up win No. 300 - making him eligible for the Colorado State High School Athletic Association Hall of Fame - in his fourth season with the girls.
400 - The 'Rule of Jigs'
As the century turned, so did the balance of power in the WSL.
An extension of their coach, Mortensen's players - including all four of his daughters, Jinny, Erin, Emily and Laurel, who each played for their father - worked hard on the floor. He piled up 113 wins the next six seasons.
As the 2004-05 season began, Mortensen was five wins away from 400.
His "Rule of Jigs" coaching style was working with the girls, just as it did with the boys.
"It was about hard work ethic," he said. "That's what we did. We tried to outwork every team we played. I used to tell them a story about the 'Rule of Jigs.' Jigs was my father, that was his nickname. My dad never told me to shoot more, he never said 'Do this' or 'Do that,' he never criticized me. All he ever told me is 'Craig, you should always be the hardest worker on the floor. That's the one thing you can always do, is be the hardest worker out there on the floor.'"
The 2004-05 season came and went, the girls went 22-2 and Mortensen added another career achievement: 400-plus victories.
500 - Bully
The next three years, Moffat County compiled a 69-8 record, and advanced deep in to the postseason including trips to the Final Four, Great Eight and Sweet Sixteen.
That three-year run was highlighted by the 2005-06 campaign, which included a 25-1 record and the girls' only Final Four appearance in school history.
The Bulldogs had become the Western Slope League's girls basketball bully.
They didn't lose a league game for three years.
With his "Fab Five" - Angie Charchalis, Markie Workman, Desirae Pearcey, Amy Dilldine and Georgia Raftopoulos - graduated, rumors of Mortensen's retirement circulated.
But, there was no quit in the old ball coach.
The Bulldogs began 2008-09 below .500 for the first time since 1997.
And Mortensen did what he has always done: He coached.
"Everybody loves winning, it's easy to love winning. But to be a winner, you've got to hate losing," Mortensen said. "The fear of losing is a great motivator."
And motivate, he did.
Including Tuesday's win against Steamboat, Moffat County had won eight of its past nine games, and it is gunning for a fifth consecutive WSL league title.
"We've kind of come into our own," Mortensen said of his current squad. "It took us a while to get an identity, but I think we've found it."
Hall of fame
The one accomplishment that has evaded Mortensen's grasp: winning a state title.
"I think the goal of every coach that has a decent program, or loves the game like I have loved the game, (is) a desire and a goal to win a state title," he said. "But, as far as trading things for it, you wouldn't do that. A state title is something that you have to really earn and work and actually have a lot of luck and some good things going in your favor to win it. It takes a lot more than skill or great athletes. It takes a lot of luck, too.
"If the only reason I coached was to win a state title," he said and paused.
"It would be a sad place around this house the last 30 some-odd years," his wife, Margie, finished.
State title or no, Mortensen could be a lock for the Colorado High School Athletic Association's Hall of Fame.
"When you talk about that kind of body of work, achieving 500 wins, that is absolutely an achievement that cannot be discounted in any way, shape or form," CHSAA Assistant Commissioner Bert Borgman said. "Those are the kinds of things that carry over into the Hall of Fame, and those are the kinds of things that we at CHSAA want to have represent our Hall of Fame."
Regardless of the 500-251 career record, the accolades and Hall of Fame consideration, it matters little to Mortensen.
He's never been about the wins.
"You never really think about those things," he said. "You never think you're going to get old.
"But, come to think of it," he grinned and said, "I look at it like I lost 250 games."