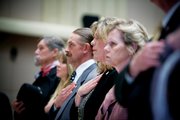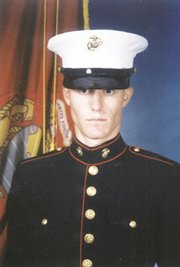 If you go
What: Public screening of "Taking Chance"
When: 6 p.m. Wednesday
Where: Dubois (Wyo.) High School gymnasium
• The film is open to anyone who wants to attend. It will premier on HBO nationwide Feb. 21.
Craig — Gretchen Mack, a former Craig resident, had reason to be apprehensive and nervous Dec. 13, 2008, while sitting with friends and family at a home in Dubois, Wyo.
She was about to relive one of the worst moments of her life - the moment she lost her son.
On the television screen in the home's basement, a DVD was placed in a player and a black screen came up. Mack then heard sounds of radio transmissions, explosions and frenetic gunfire booming in the background, followed by words:
"Phelps is down."
Lance Cpl. Chance Phelps, a 19-year-old Marine who spent 12 years of his childhood living in Craig, died April 9, 2004, by hostile gunfire in the Al Anbar Province in Iraq.
The scenes his mother watched that night two months ago were from a movie, HBO Films' "Taking Chance," which premieres nationwide this month.
The film is based on the journal of Lt. Col. Michael Strobl, a senior Marine Corps officer who escorted Phelps' body home. Kevin Bacon stars as Strobl.
"I won't lie to you," Mack said Wednesday about her first time seeing the finished movie. "It was absolutely awful. It was absolutely horrible to have to sit and watch that."
Don't misunderstand her words.
Mack said they are not a reflection of the film's quality, content or acting, but rather an emotional response to a traumatic event that's still painful.
Watching the movie, she said, is like "dejà vu."
"It's just really hard," Mack said. "I don't even know how to describe it."
On Friday, Mack returned to Wyoming from an east coast trip, during which the film was screened at the Pentagon in Arlington, Va., the Marine Corp Base in Quantico, Va., and twice in New York City.
On Wednesday, about 30 Craig residents will attend a public screening of the movie inside the gymnasium at Dubois High School in Dubois, Wyo., the same gym in which Phelps' funeral took place in 2004. The list of Craig attendees includes Phelps' friends and family, said Tonee Gingrich, his grandmother and a Craig resident.
"It's going to be like : reliving the whole thing we went through, but hopefully it sends the right message to people," said Gingrich, who will be joined at the movie by her son, Christopher, and sister, Dollie Frentress, among others. "It's not just about Chance. : It's about the love and respect (soldiers killed in action) receive as they travel (home) with an escort.
"It's not a political message. It's just a message to our military how much we respect and honor them."
The screening in Dubois is open to anyone who wants to attend.
Phelps had been in Iraq for about a month before he died. He was posthumously awarded the Bronze Star with Combat Distinguished Device for "heroic actions" during the ambush that led to his death.
Strobl, a Desert Storm veteran with 17 years of military service, volunteered to escort Phelps from Dover Port Mortuary at Dover Air Force Base in Maryland, to his family in Wyoming.
"The Department of Defense provides a uniformed escort to ensure that the remains of all servicemen who have died are transported with proper respect and safeguarded all the way to wherever the loved ones desire the final resting place to be," Strobl said in a news release from HBO.
The journey home with Chance, Strobl said, "transcended any of his expectations."
"Beginning in Virginia, and then especially in Dover and from there on, I saw how people were reacting to Chance's sacrifice," Strobl said in the release. "I felt like I really wanted to remember it, and the best way to do that was to capture it in a journal."
HBO contacted Phelps' family in late 2005 or early 2006 about making a movie based on Strobl's journal, which also circulated on the Internet.
The family gave filmmakers their blessing, Mack said, with a couple of conditions.
Sticking to Strobl's narrative was the first, she added.
"And then it was 'If you can't stick to the narrative - positive Marine Corps, positive Chance, no political stuff - don't do it,'" Mack said.
Family members were involved in the film's process from start to finish, she said.
And that finished product has the approval of Phelps' family.
"It made perfect sense to me how they did it," said Mack, adding that the film has received mostly favorable reviews so far from those who have seen it. "There was a few surprises : but I think they got their point across.
Mack said her son would be surprised by the attention he's receiving today.
"Truthfully, he would just think we're crazy," she said. "Then he would be dumbfounded and honored, as well, knowing a senior Marine Corps officer escorted him home, knowing it's highly unusual."
Mack said she has grown close to men her son once served with, so much so that "they're a part of our family now, as is Lt. Col. Strobl."
Based on a line in Strobl's journal, Chance Phelps had a profound effect on him, as well.
"I didn't know Chance Phelps before he died," Strobl wrote, according to the news release. "But today, I miss him."