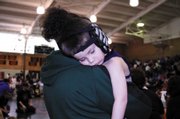 Bad Dog wrestling results
Feb. 7, Tiger Paw Classic
Grand Junction High School, Grand Junction
Individual results
Wrestler, Record (pins), Place
Cody Baker, 3-1 (3), 2
Kaden Hixson, 2-1 (0), 2
Dezzee Pfister, 5-0 (5), 1
Daniel Caddy, 4-0 (4), 1
Jake Shelton, 3-1 (2), 2
Gregory Hixson, 3-1 (3), 2
Dajia Lewis, 3-1 (3), 1
Colton Hall, 1-1 (0), 2
Spencer Brown, 4-0 (4), 1
Ethan Powers, 3-0 (2), 1
Kaden Hafey, 1-4 (0), 5
Elias Peroulis, 3-0 (3), 1
Christopher Moschetti,
, 1-2 (1), 3
Quincy Pfister, 2-0 (1), 1
Koletan Hafey, 0-5 (0), 6
Thomas Baker, 3-1 (3), 2
Devlyn Mosman, 5-0 (3), 1
Mikinzie Klimper, 4-1 (4), 2
Mikey Bingham, 3-0 (3), 1
Deven Mosman, 3-0 (2), 1
Shandon Hadley, 4-1 (3), 1
Benji Robinson, 2-3 (0), 3
Stelios Peroulis, 0-5 (0), -
Jesus Duarte, 1-2 (1), 4
The mat was cleared of all competitors as a hush fell over the crowd of more than 500 inside Grand Junction High School's gymnasium.
It was the day's final match in the 2009 Tiger Paw Classic youth wrestling tournament.
On one side was undefeated Josiah Ryder - a grappler who had just returned from winning his sixth national title in California.
On the other was Craig youth Shandon Hadley, whose best national finish was fourth and was 0-4 in his career against Ryder.
All the big names were there, and it was down to these two 75-pounders.
It was the main event, the lights were dimmed and the fans were ready for a stellar ending to an already exciting tournament.
They never got it.
Hadley caught Ryder lunging in for a takedown, put him in a headlock, jerked him to the mat and pinned him while sitting on top holding both of Ryder's arms to the mat.
It took him less than a minute to become the new champion.
"It was awesome," Bad Dogs coach Shane Hadley said. "We were very excited. It's one of those deals where he's worked his butt off and taken his losses at other national tournaments, and it all paid off."
The hard work must be contagious.
Of the 24 Bad Dogs who made the trek south Saturday, 23 placed.
And of the 23 grapplers who finished in the top six, 11 were crowned individual champions.
"This team was flying high after the Bee Hive Brawl (a third-place team finish in the national event Jan. 24 in Utah) and they just carried it over into Grand Junction."
Dezzee Pfister (5-0), Daniel Caddy (4-0), Dajia Lewis (3-1), Spencer Brown (4-0), Ethan Powers (3-0), Elias Peroulis (3-0), Quincy Pfister (2-0), Deven Mosman (3-0), Devlyn Mosman (5-0) and Mikey Bingham (3-0) joined Hadley in the winners circle.
The event didn't inclue a team champion.
If it had, the Bad Dogs would have claimed that title, as well.
Craig finished with a tournament best 63 wins, 48 of which came by pin.
Next up for the Bad Dogs is a competition Saturday in the Mat Cat Invitational in Fruita.