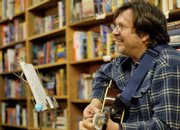 If you go
What: 14th Annual Art Walk, Third Annual Taste of Chocolate
When: 5 to 9 p.m. Saturday
Where: Downtown Craig
• For more information, call Carol Wilson at 824-4580.
What: 2009 Wyman Museum Winter Festival
When: Saturday and Sunday
Where: Wyman Museum, 94350 U.S. Highway 40
• For more information, call the museum at 824-6346.
An assortment of activities - including viewing the works of local artists and a jam-packed winter festival - provides all the reason local residents need to break the winter doldrums and get out of the house this weekend.
"We have six months of winter," Wyman Museum office manager Nicky Boulger said, "why not enjoy it?"
The 14th Annual Art Walk and Third Annual Taste of Chocolate, and 2009 Wyman Museum Winter Festival are Saturday and Sunday.
The weekend's festivities begin at noon Friday with the work of ice carver Michael Campe at Alice Pleasant Park. He will be creating frozen works of art that will be displayed downtown and at Wyman Museum.
On Saturday, the carver moves out to the museum, 94350 U.S. Highway 40, and its 2009 Winter Festival officially begins.
Kicking off the Winter Festival is the 17th Annual Western Ride-In Antique and vintage snowmobile show, sell and swap. Registration for the show is 8 to 10 a.m., judging is from 10:30 a.m. to 1 p.m., and events start at 1 p.m.
Anyone is allowed to enter a 1980 or older snowmobile.
The Craig Chamber of Commerce chili cookoff begins at 11 a.m. at the museum, with testing beginning at noon. Voting is open to the public.
For adventurous youths, there will be a cardboard box derby. Participants must show up with their box sleds by 1 p.m. Judging begins at 2 p.m., and downhill races begin at 2:30 p.m.
X-treme Mountain Sno-X Racing begins at 10 a.m. both Saturday and Sunday, with more than 90 racers already signed up. Racers from Montana, Wyoming, New Mexico and Colorado are scheduled to compete.
On Sunday, the museum's racetrack will be modified into an endurance track, with heats extending to 20 minutes and racing distances increased
Racing registration is at 7 a.m. both days.
Also on Sunday will be a snowmachine jackpot rodeo, with registration at 10 a.m.
Boulger described the event as, simply, rodeo on snow machines. It will include barrel racing, flag racing and goat tying.
Anyone is welcome to participate, and proceeds from the rodeo event go to the museum and the Black Mountain Junior Rodeo.
But, the museum isn't just hosting fun in the snow.
At 6 p.m. Saturday, the Romantic Valentine's Day Sleigh Ride & Dinner begins.
Timeless Dinners, of Meeker, is catering the meal, which includes all-you-can-eat prime rib, crab and side dishes. Cedar Mountain Ensemble, a seven-member musical act, will perform during the meal.
Art Walk and Taste of Chocolate takes place from 5 to 9 p.m. Saturday at businesses in the 400 to 600 block of Yampa Ave., and several businesses along Victory Way.
The Downtown Business Association is sponsoring the events.
More than 25 artists, 12 "chocolatiers" and 16 businesses are participating in the events, event organizer Carol Wilson said.
Live music will be played up and down the downtown blocks, Colorado Northwestern Community College's Pottery Program will host a soup fundraiser, and a quilt will be displayed by the newly formed Craig Quilt Guild.
Art ranging from watercolor, oil, photography and Western works will be on display and for sale.
"Make sure to make time for you and your sweetheart to take in the Art Walk and Taste of Chocolate," Wilson said in a news release.
The chocolatiers are going to be vying for the bragging rights of best chocolate in town as well as a $100 pot. Tickets to be a taster are $10, and available at downtown businesses.