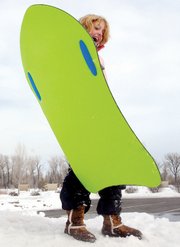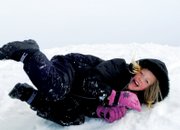 A spat of warm weather turned ice to slush, but Marlena O'Leary wasn't complaining.
She basked in the sun as she watched her son and four Craig Cougar teammates play hockey Saturday at Yampa River State Park.
"We're feeling the global warming, and I gotta say it's a good thing for us - complain all they want elsewhere," she said.
Goalie Riley O'Leary, 12, called out complaints about the "slushy ice" and how hard it was to glide on.
It's a pond, his mother reminded him, there's no Zamboni.
But hockey drills gave way to snowball fights as the Cougars enjoyed the sunshine and a "hockey high" at the Yampa River State Park's Full Moon Ski and Skate Open House.
"They're feeling good. They won both games in Oak Creek and can't get enough of that ice," O'Leary said from a plastic chair buried legs-deep in a melting snow bank. "Even the free hot dogs didn't bring them off the ice."
It was amazing the pond still was frozen at all for the Ski and Skate after a week with temperatures reaching the 40s, park manager Ron Dellacroce said. The park's rink behind the visitor's center melted off in just two days last week. That's when staff hit "panic situation," Dellacroce said.
"We hate to say it, but the weather is too nice - more like April," he said.
Besides the skaters, the State Park hosted skiers, shoppers, sledders and strollers for the fourth-annual open house. Staff kept a barbeque loaded with hot dogs and a fire pit lit for marshmallow roasting.
Prices were slashed at the gift shop.
Some visitors Saturday had never been to the park 15 miles east of Craig; others had stopped coming once summer passed.
"This is their park, and they need to come out here and use it," Dellacroce said.
The Ski and Skate "exposes some people to the park," he said. "Those who were fishing on the pond during the summer can come back and skate it."
The event that began with skating in the afternoon sunshine ended at 9 p.m. with skiing under a full moon.
All winter long, the park has 1.2 miles of groomed trail for cross-country skiing, educational displays about local history and river ecology, skating and hiking.
As the Ski and Skate is meant to prove, outdoor sports take the edge off the cabin fever that February can bring.
"Get out and play a bit," Dellacroce said. "If you're going to live up here, you better enjoy the winter."