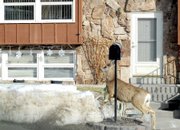 Today
11:30 a.m. to 1:30 p.m. The Colorado Council on the Arts hosts a gathering at Serendipity Coffee Shop, 576 Yampa Ave., to gain public feedback on budget priorities in light of proposed state funding cuts.
1 to 8 p.m. The fourth annual Yampa River State Park Ski and Skate Open House happens at the park on U.S. Highway 40. For information, call 276-2061.
5 p.m. The senior dinner takes place upstairs at Veterans of Foreign Wars, 419 E. Victory Way. Call Mary Walters at 824-2923.
6 p.m. Deaf residents are invited to a potluck social at Calvary Baptist Church, 1050 Yampa Ave. The event is open to families and the public, as well. Bring a small dish to share. Call Deena Armstrong at 824-2547.
Sunday, Feb. 8
8:30 a.m. to noon. The Moffat County 4-H/FFA market beef mandatory weigh-in and tagging takes place at the Moffat County Fairgrounds. To show or sell a market beef animal, it must be weighed-in and tagged on this date. Call the Moffat County Extension Office at 824-9180.
9 a.m. to 5 p.m. Bill Sawer hosts the Midwinter Classic Soccer Tournament at the Boys & Girls Club of Craig, 1324 E. U.S. Highway 40. All boys and girls age 18 and younger are welcome to attend. Call Sawer at 824-0116 for more information.
1:30 p.m. The Veterans of Foreign Wars hosts bingo at the VFW Hall, 419 E. Victory Way. For more information, call Cave Walters at 824-2923.
Monday, Feb. 9
Intermountain Rigging & Heavyhaul will be moving a load on Colorado Highway 13 from the Wyoming border through Craig to Meeker. This load is 345 feet long, 20 feet wide and 16 feet, 6 inches high. The move is weather-pending.
9 a.m. National Arthritis Foundation swim program happens at the American Legion Post 62 pool, 1055 Moffat County Road 7. Call 824-3625.
Noon. Al Anon meeting at First Congregational United Church of Christ, 630 Green St., in the library, for relatives and friends of alcoholics and addicts.
5 to 7 p.m. The Colorado Northwestern Community College nursing program hosts an open house to introduce the new SimMan Simulator, a computerized mannequin, on the second floor of the school administration building, 785 Yampa Ave. Demonstrations will be given at 5:30 and 6:15 p.m. For information, call 824-1104.
5:30 p.m. The monthly meeting of the Moffat County Libraries Board of Trustees is at the Craig branch, 570 Green St. The meeting is open to the public.
6:30 p.m. The Craig Middle School Parent Advisory Committee meets in the CMS library. Counselors from the high school will be in attendance to talk to parents about the eighth-grade registration process for high school. All CMS parents are encouraged to attend.