For more
Call 824-1703 if interested in joining or donating to the unicycling club.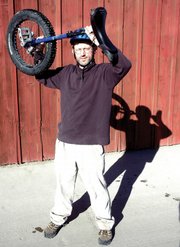 The unicycle no longer is just for circus entertainers.
That's what Craig resident Kevin Morris has learned, and he wants to spread the word, as well as the skills.
"You can go on YouTube and see that there are some really good riders out there," he said. "There are more and more extreme riders out there everyday."
Morris, who started to learn to ride when he was 13, saw that there was more to riding forward on a unicycle when he was visiting Telluride several years ago. There, he saw riders doing tricks and jumps, and he was interested immediately.
"The ski club guys would use the unicycle for something to train on in the summers," he said. "They directed me to a rule book that included instructions on tricks."
Morris started to dabble in the extreme techniques, and when he moved to Craig two years ago, he started to devote more time to the tricks.
He started to go to the skate park in east Craig, and he taught himself to do rail grinds and other tricks that two-wheeled experts work to pull off.
"It took me a lot to set aside my fears when I first started with tricks," he said. "A lot of what you do is unnatural."
One of his first skills was to learn to ride with one foot. Then he advanced to jumps and one-footed tricks.
"It's hard to just explain," he said. "I was inspired by the movie 'Defect,' which is a unicycle movie with phenomenal riders, and I decided I could train to do some of what I was seeing. People can see what I'm talking about if they check out the movie."
Morris also uses the unicycle to stay in shape.
He said he tries to ride for an hour every day. Some of that time is spent at the park, and other time is spent just riding around town.
"It uses every muscle in your body," he said. "You're working out all the time you're on the wheel. It probably takes more muscles when you are standing still."
Morris' unicycle is designed by one of the modern masters of extreme unicycling, Kris Holm.
It is fitted with thick, treaded tires, which allow for all types of terrain and does well in the winter except for thicker, wet snow, which "grabs the tire and makes it tough to move," Morris said.
He said people are starting to notice him now that he is riding outside every day
"People give me lots of space when they see me coming," he said. "I think they feel I might be pretty unstable because I'm just on one wheel. Sometimes I get, 'Oh, you're the unicycle guy,' when I'm around town."
Morris would like for there to be more than one "unicycle guy."
Last year, he spent several evenings at the Boys & Girls Club of Craig teaching youths how to ride. He said there were several aspiring riders who were catching on at the end of the year. Scheduling issues have kept him from the club this year, but he'd still like to help others learn or join up with other riders.
"I like to see the joy in people's faces when they see me ride," he said. "I think others can get the same enjoyment."
In every town Morris has been in, he has tried to get a riding club started, and that's the same for Craig.
"It's easier to start when you're younger because you have fewer fears," he said. "But, I'd like to get together with anybody who would be interested."
His unicycle club also could use some donated cycles if anyone has one sitting around collecting dust.
If interested in donating a unicycle or joining the club, call Morris at 824-1703.