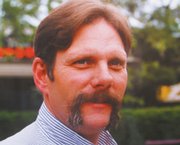 Freshman state Rep. Randy Baumgardner, R-Hot Sulphur Springs, had an idea to reshape the way Colorado shares natural resource revenue with local governments.
That idea died late Wednesday afternoon in the Legislature's Finance Committee.
House Bill 1051, which Baumgardner introduced, would have taken 10 percent of the state's federal mineral lease revenue - such as the royalties made on coal production in Moffat County - and given that money to individual cities and counties with no strings attached.
Baumgardner eliminated a prior version of the bill that would have taken all federal mineral lease revenue - projected to be about $17.5 million in the next fiscal year - and put it toward transportation issues across the state. After weeks of negotiations, the Northwest Colorado legislator said he was disappointed to see the bill end.
"After a hard-fought battle representing my counties and the cities in my area, that bill was lost today," Baumgardner said Wednesday. "We were just trying to make sure : that those dollars got back to the local counties that need them for whatever they chose to use them for."
The current system already makes direct distributions to local communities, but state projections show that Baumgardner's bill likely would have dramatically increased these funds for Moffat and Routt counties.
If the bill had passed, Moffat County's mineral lease revenue would have increased from $608,506 in fiscal year 2007-2008 to a projected $2.1 million in fiscal year 2008-2009.
Routt County's allocation would have increased from $125,380 in the current fiscal year to a projected $658,652 in the next year.
The state also splits federal mineral lease revenue between Colorado Department of Local Affairs grants and public education funding.
Baumgardner's bill would not have changed the formula but would have taken money out of the larger pot before it could be divided.
Baumgardner said he does not plan to introduce any more legislation on mineral lease or severance tax revenue in the near future because of the state's tenuous financial position. Legislators face the challenge of meeting a $1 billion budget deficit before the next fiscal year begins in July.
Financial uncertainty was the primary reason his bill was defeated, Baumgardner said.
The state borrowed money against mineral lease revenue projections to fund construction projects this year, and some legislators feared cutting revenue might hurt the government's ability to pay its loans.
Although Baumgardner was not happy with the decision, he said he understood the reasoning, though it is unfortunate the state created its own problem.
"In my mind, if you're borrowing money on a projection, that's not good business," Baumgardner said. "Of course, with the downturn in the oil and gas industry, there's a chance there could be problems anyway."
He added that he will continue to watch state agencies charged with distributing money to communities affected by energy development.
In a recent conversation with DOLA officials, Baumgardner said he will do everything he can to keep large grants from going to areas with no apparent energy production.
"If I see grant dollars of $2 (million) to $10 million going to communities not impacted by the energy industry," he said, "then they will see a bill a lot like this one next session, regardless of the economy."
Despite his recent disappointments - including a bill to streamline permitting for clean coal operations, which also died in committee - Baumgardner said he harbors no ill feelings toward the government process or other legislators.
"You do the best you can, you take your licks and you move on," he said. "It's learning the process. Everybody has their own take on how things are supposed to work. If I were to carry a grudge, I wouldn't last very long."