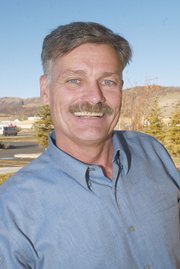 Other action
At its Tuesday meeting, the Moffat County Commission:
• Approved, 3-0, signing a letter of support for Trapper Mining Company's request for the federal government to lower its royalty rate charge on coal harvested at the mine.
Ray DuBois, Trapper Mining Inc. president and general manager, said a lower rate would help the mine stay open past its current 2014 plans.
The federal government owns the coal in Trapper Mine but asks that local and state governments approve of any royalty reductions because they are affected, also.
• Appointed, 3-0, John Ponikvar, Dave Fleming and Stacy Razzano to the County Finance Corporation. Ponikvar and Fleming are incumbents. The three appointees were the only residents to apply for the positions.
• Also appointed, 3-0, Don Cook to The Memorial Hospital board. Other applicants were T. Wright Dickinson, Karl Huntsman, Forrest Luke and Victor Updike.
• Approved, 3-0, a Moffat County Social Services request for $274,461 in state funding for the Northwest Colorado Council for Children and Families. The money will go toward establishing programs and services for children as old as 5.
It seems the Moffat County Commission has a new, inside source in Denver.
State Sen. Al White, R-Hayden, made the first of what could be many personal calls from the Capitol to the Commission Chambers in Craig on Tuesday. At the three commissioners' request, he discussed several issues that could directly impact Northwest Colorado.
First on deck was White's game damage bill, which largely institutes requirements for the Colorado Division of Wildlife to respond to landowners who have complaints or problems with animals.
It also requires the DOW issue out-of-season kill permits when wildlife causes "excessive" damage to a person's property.
Commissioners Tom Gray and Tom Mathers, who operate private ranches in the county, said they personally support White's plan.
Commissioner Audrey Danner said the bill is in too much flux for her to give or deny support.
White himself was uncertain how the bill will change when it appears before the Agriculture, Livestock and Natural Resources Committee later this week.
"Sometimes, you like to see things added or included, but in this game, you have to take what you can get," White said.
He added that may not be much in this case. The Agriculture Committee could eliminate the bill entirely with a proposed amendment to strike everything and create a cooperative taskforce to study the issues between the DOW, sportsmen and landowners.
White said he would rather see something happen this year than hand things over to a study group.
"I'm not in favor of this, but I don't always have all the votes I need, either," he said.
The conversation did not get any lighter when Danner asked what White planned to do about the state's $1 billion budget deficit this year.
White, a member of the Legislature's Joint Budget Committee, said a lot of groups will be hurt when the state begins its new fiscal year in July.
"I feel like we're equal opportunity disappointers this year," he said. "We're going backward in so many different areas, which is disappointing."
The state senator said he was working hard to find alternative funding for many programs facing budget cuts, including the Rifle Correctional Facility, which Gov. Bill Ritter proposed closing to help lessen the state's deficit.
Although the state thinks it can provide jobs in other places to all 57 of the facility's employees, White said it's important to keep Western Slope jobs in their communities.
"This'll knock out about 60 jobs in an economy that is already suffering from issues with the oil and gas industry," he said.
Mathers agreed, and added the governor should start encouraging the energy industry to come back to Colorado to stabilize the regional economy.
"I'm right with you there," White said.
Despite the relatively somber tone found in many of White's answers, the Commission thanked him for giving his time.
"It's very helpful to have these discussions with our legislators, especially : in an open meeting," Danner said. "We (the commissioners) can all call him, but this gets the public involved."
White said he will appear at more meetings in the future, whenever he is asked and can make the time.
Collin Smith can be reached at 875-1794 or cesmith@craigdailypress.com