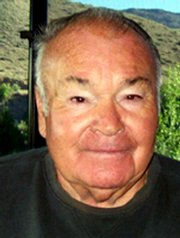 A Craig resident and Daily Press columnist, whose historical works chronicled Northwest Colorado's rich tradition in coal mining and other topics, died Monday afternoon after a long hospital stay because of heart trouble.
Chuck Mack died about 1 p.m. Monday at Oklahoma Heart Hospital in Oklahoma City, from complications of a quintuple bypass surgery.
He celebrated his 78th birthday Jan. 29, while in the hospital.
His wife, Alberta Mack, said a saving grace was that the couple's two children, granddaughter and great-grandson were able to make it to Oklahoma before Chuck died.
"He hung on until all of his kids were there," she said from Eufaula, Okla., where the couple makes their winter home.
Grant Mortuary will handle arrangements. Services are pending.
Alberta said her family would have a service in Craig at a later date.
"It's not going to be a funeral," said Alberta, Chuck's wife of 58 years. "It will be a celebration of his life."
Living life and taking enjoyment out of it was a trait Alberta will remember well about her husband. He didn't have enough time to do all the things he wanted, she said.
"He had a great love of life and still had plans for a million things he wanted to do," Alberta said.
"He was a wonderful man. He loved nature, loved to take pictures of scenery" as well as travel, camp, fish, ride his 4-wheeler and be in the outdoors in general, she added.
He also loved writing his column, which appeared most often in the Daily Press' Saturday edition.
The column drew on Chuck's experiences in Mount Harris, his 45-plus years working in coal mines and tales from old newspaper accounts.
"The comments he received from the community," Alberta said about what Chuck enjoyed about his column. "He just loved to share what he knew with other people."
The Daily Press will continue to print Chuck's remaining, unpublished columns.
"Chuck's weekly pieces are a cherished part of our newspaper," Daily Press publisher Bryce Jacobson said. "His columns give our readers a glimpse into the past, and today, we are saddened that our colleague and community member has left us. Our hearts and prayers are with his family."
Chuck had received a research grant from Colorado Endowment for the Humanities for a book he was working on about his stories of Mount Harris, where he was born and raised until he was 15 years old.
Carol Jacobson, owner of Downtown Books in Craig, helped Chuck secure the grant.
She said she was impressed that Chuck was willing and eager to share his tales of coal mining and other experiences with people.
"He got it down," Carol Jacobson said. "If you get it down, that's a great place to start."
There may be people, she said, with as much history as Chuck in coal mining, but there's a big difference between them.
"None of them are talking about it, or taking a chance, or writing about it," Carol Jacobson said. "Chuck was out there sharing it."
Kelsey Berkoff, a library assistant at the Craig branch of the Moffat County Libraries, was editing Chuck's untitled book. She went through about 100 of his stories in the last six months.
Berkoff said she was saddened by the news of Chuck's passing.
"He seemed like a really neat guy," she said. "Someone you'd like to know better."
"I was sad that he wouldn't get a chance to see his stories in book form. He would have really liked that."
Although she'd only met him a few times, Berkoff said she felt as if she knew Chuck by the rich stories of his she'd read.
She and Carol Jacobson said they would continue to work on the book in hopes of seeing it finished and printed.
"For his sake, and the sake of his family, I want to get this done," Berkoff said.
"We're all going to work on finishing it," Carol Jacobson said. "It's still important. It's still really important."
Chuck is survived by his wife, Alberta, of Craig; daughter Zina (Rich) Warrick, of Grand Junction; son Mike (Debra) Mack, of Craig; granddaughter Shawnel Mack and great-grandson Nathaniel Mack, both of Craig; and seven step-grandchildren and one step great-grandson.
Alberta said Chuck would have wanted it known that he and his great-grandson, 9-year-old Nathaniel, were close pals.
"They were the best buddies in the whole world," she said. "That's what they always said to each other."
Joshua Roberts can be reached at 875-1791, or jroberts@craigdailypress.com.