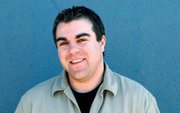 Let me start off this week by saying there is not much going on in the fantasy basketball world.
There are not very many players worth grabbing off the waivers unless you're in need of shooters. Then players such as Eddie House, J.J. Reddick and Steve Novak become viable options.
When it comes to injuries, though, there is a lot more to talk about.
Kevin Garnett missed time last week with flu-like symptoms.
In the meantime, Glen "Big Baby" Davis will see more playing time in Garnett's absence.
Andrei Kirilenko, one of my favorite players, is going to be out three to four weeks after having surgery to repair his right ankle.
C.J. Miles will see more playing time while AK-47 is out and should be a good pickup if you're looking for some scoring, good field goal and free-throw percentage with maybe a steal to boot.
There is some good news concerning "The Matrix" Shawn Marion and his injured groin. He has been practicing with the team and hopes to return this week.
Marion has taken a step down from where he was while playing for Phoenix, and I think the only thing that will turn it around for him is to be traded to a more up-tempo style of team where his all-around game can flourish.
The Yahoo Fantasy Basketball playoffs start March 23, so now is the time to get what quality players are left on the waivers and make a trade or two to put your team in contention or to stay among the top of the pack.
Players to watch out for:
• C.J. Miles, guard/forward, Utah Jazz - Last three games: 14.3 points, 3.7 rebounds, 0.7 steals.
• Ryan Gomes, forward, Minnesota Timberwolves - Last four games: 16.0 points, 5 rebounds, 1.5 steals.
• Courtney Lee, guard/forward, Orlando Magic - Last three games: 11.0 points, 1.3 steals, 1.7 3-pointers.
• Flip Murray, guard, Atlanta Hawks - Last four games: 18.8 points, 1.8 steals, 1.3 3-pointers.
• Linas Kleiza, guard/forward, Denver Nuggets - Last three games: 14.0 points, 5.3 rebounds, 2 3-pointers, 1.0 steal
• Brandon Bass, forward, Dallas Mavericks - Last two games: 13.5 points, 6.5 rebounds, 2.0 assists, 0.5 steals, 1.5 blocks