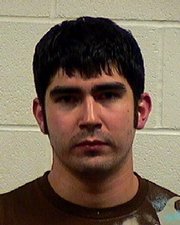 A report of domestic violence Saturday morning later resulted in the Craig Police Department calling out its version of SWAT - the Special Emergency Response Team.
Police arrested Samuel Gene Vasquez, 25, of Craig, early Saturday after a standoff in the 700 block of Pershing Street.
He was arrested on suspicion of domestic violence, third-degree assault, driving under the influence and prohibited use of a weapon, and he was booked into Moffat County Jail.
About 3:30 a.m., Saturday, a report came in to police that a woman had been struck in the head with a firearm at a home on West Second Street. Vasquez, Police Chief Walt Vanatta said, allegedly hit his wife with a gun, and he left the scene before police arrived.
His vehicle was spotted about 30 minutes later, at 3:57 a.m., in the 700 block of Pershing Street.
The SERT team arrived about 4:45 a.m. The team was called to the scene because of reports that Vasquez possibly was armed and that he would not come out from the house.
About 6:50 a.m., police heard Vasquez run from the house into an alley, Vanatta said. He was found and arrested near Frontier Apartments, the Police Chief added.
The SERT team, comprised of Police Department officers and Moffat County Sheriff's Office deputies, is used in special circumstances such as high-risk warrants or drug raids.
No one was injured Saturday morning, police reported.
As of 5 p.m. Monday, Vasquez remained in custody at the jail.
Joshua Roberts can be reached at 875-1791, or jroberts@craigdailypress.com.