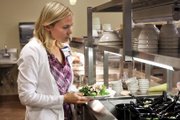 If you go
What: Free hot meal at St. Michael's Kitchen
When: Noon to 2 p.m. Tuesdays beginning Dec. 29 and 4 to 6 p.m. Thursdays beginning Dec. 31.
Where: St. Michael Catholic Church, 678 School St.
For more information: Call 824-5330.
Craig — More than anything else, Mark Stanczak hates throwing away food.
The longtime cook and now executive chef at the Mountain Café at The Memorial Hospital, always has found something productive to do with leftovers: give them to someone who needs them more.
"I'd rather see it go into someone's stomach than a Dumpster," he said. "Why not? It's the right things to do. There's hungry people everywhere. Somewhere, someone can use it."
Starting Tuesday, St. Michael Catholic Church will be offering free hot meals to those who need it from noon to 2 p.m. Tuesdays and 4 to 6 p.m. Thursdays, using leftovers from the Mountain Café and donations from Wal-Mart, Brothers Custom Processing, City Market, Safeway, Boyco and Murdoch's.
Although Stanczak is new to working in Craig, giving back to the community always has been a part of his role as a chef.

When he worked as a banquet chef in Chicago, he often was left with trays of untouched food. He began to give the leftovers to a local women's shelter.
When he started in Nove­mber at TMH, he wanted to continue what he called a "habit" of giving.
"I had this tray of turkey nacho casserole, and it was just something we couldn't use and reuse," he said. "It was one of those things where we anticipated more people coming in than we had, so it was completely untouched. I'm not very familiar with Craig, so I asked George (Rohrich, TMH CEO), 'Is there anywhere you can suggest?' and he put me in touch with Father Jim."
St. Michael pastor Jim Fox said he mentioned the idea of serving a twice-weekly hot meal to his congregation, which was thrilled by the opportunity.
"They jumped on it like it was the last train out of town," he said. "Four people started it up and started making contacts to local businesses. I was surprised. You always hope something like this will take, and the response was overwhelming."
Fox said the meals would be served Tuesdays and Thursdays to start and expand to three days a week depending on demand and donations.
"It's gospel in its truest form," he said. "Feed the poor, feed the hungry, take care of the homeless and tend to the sick. It's the fundamentals of the gospel. Especially with the economy being like it is, we like to help out when we can."
He said he hopes to gather more volunteers to help serve the food as well as start delivering hot meals to those who are bound to their homes or rooms.
"Finding Christ means not just receiving but giving," Fox said. "And that's one of the things we're trying to embody."
Stanczak said he knows the Mountain Café won't be able to provide enough leftovers to feed everyone's needs each week but that when there is a little something extra, he knows it will be put to good use.
"I hope we can contribute as much as possible, whatever happens," he said. "I hope they have even more people take advantage of it."