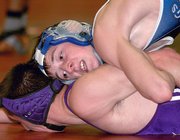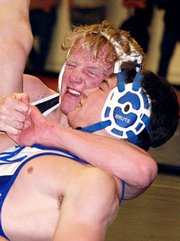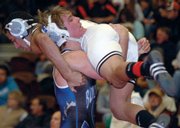 Tournament results
103 lbs. Justin McAlexander, 1-2
112 lbs. Jacob Teeter, 1-2
119 lbs. Cody Nelson 2-2
125 lbs. Garrett Stewart, 1-2
140 lbs. Todd Stewart, 1-2
145 lbs. Charlie Griffiths, 3-2
152 lbs. Nathan Tomlin, 5-1
160 lbs. Nick Chew, 1-2
171 lbs Scot Mann, 5-3
189 lbs. Cody Adams, 2-2
215 pounds, Ben Winslow, 2-2.
Overall 23 wins (eight wins by bye), 21 losses.
Grand Junction — Revenge was sweet for Scott Mann.
The Moffat County senior wrestler at 171 pounds went into the Warrior Classic Wrestling tournament Friday and Satur­day hoping to avenge a loss from a previous tournament to Rangely's Keane Raley.
"I was leading him in the Vernal tournament, and he caught me and pinned me," Mann said. "I shouldn't have lost to him, and I hoped I could see him again at the Warrior."
Mann and Raley met up in the consolation semifinals with a chance to make it into the medal rounds. In the second period, Mann took control for the pin. After the pin, Mann jumped up with a fist pump.
"I placed at the Warrior," Mann said with a big smile.
Mann lost his next two matches to finish sixth place.
He joined senior Nathan Tomlin as the two Bulldogs to medal at the prestigious and ultra-competitive tournament. More than 400 wrestlers from five states appeared at the event, which often is considered more competitive than the state tournament.
"This tournament was stacked just as much as normal," coach Roman Gutierrez said. "I'm really happy with the way the seniors have led this team this year. We didn't have any wrestlers place last year, so we came back a little better this year."
Tomlin entered the weekend undefeated and the top-seed in the 152-pound class. He breezed his way into the semifinals.
Green River's Scott Verner, a third-place state finisher in Wyoming's biggest class, stood between Tomlin and his first trip to a Warrior final. Verner ended Tomlin's Warrior tournament last year when he pinned him in the second period.
On Saturday, Tomlin never could find a rhythm or a successful move from his feet against Verner. The Green River wrestler and eventual tournament champion handed Tomlin his first loss of the season by a 10-2 count.
"Nathan wrestles with a rhythm," assistant coach Ron Linsacum said. "He just couldn't get anything going against the Green River guy."
Tomlin bounced back with two wins, including an 8-4 win against Pueblo South's Brandon Lopez in the consolation final. Tomlin had never placed at the Warrior.
"I think a big difference, and you can ask the coaches, for me this year is that I've grown up a lot," Tomlin said. "I'm focused and working hard to wrestle well. In years past, I didn't want to be at practice. But obviously I still need to get better, because I lost this weekend."
Tomlin will have his chance for revenge when the Bulldogs travel to Green River the second weekend in January.
"I got caught up trying to do some stuff I don't normally do," Tomlin said. "It will be a different story in Green River."

At the beginning of Saturday, the Bulldogs had six wrestlers remaining in the tournament: Tomlin and Mann, along with junior Cody Nelson (119), junior Charlie Griffiths (145), junior Cody Adams (189) and junior Ben Winslow (215). Adams and Winslow were unable to advance Saturday with first-match losses. Nelson won his first match before bowing out. Griffiths went 1-2 on Saturday and fell one match short of becoming a medalist.
"Cody (Nelson) and Charlie wrestled in some tremendously tough brackets," Gutierrez said.
Both the 119 and 145 brackets, which Nelson and Griffiths wrestled in, each boasted three state champions and no less than eight state placers.
"I was pleased with how most of our guys wrestled," Gutierrez said. "Almost everybody is nursing some kind of injury, and I hope we can get some stuff healed up before we go into January."
A lack of experience showed for the rest of the Bulldogs. Freshmen Justin Alexander (103), Jacob Teeter (112), Garrett Stewart (125) and seniors Todd Stewart (140) and Nick Chew (160) resulted in one win among five, with Todd Stewart picking up a pin.
Gutierrez said it's no coincidence that the wrestlers who struggled were experiencing their first Warrior.
"It's important for those guys to get this experience," Gutierrez said. "It's a situation that they will see again at the regional and state tournament down the road."
Today, the Bulldogs have wrestle-offs to see who will get to travel for the annual trip to Las Vegas the first week of January. Gutierrez said he expects to take 12 wrestlers for the trip. The grapplers will have the rest of the week off and will return to work after Christmas.