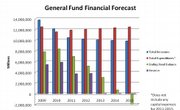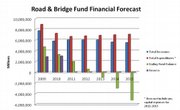 Craig — It seems certain that one year of budget cuts will not be enough for Moffat County, officials said.
The Moffat County Com­mission approved, 3-0, its 2010 budget Tuesday.
That document includes projections for roughly $3.4 million less in government revenue compared to 2009, about a $2 million decrease in expenses and a plan to spend $1.4 million in county reserves.
Said another way, county government expects to collect 10.3 percent less revenue, spend 5.6 percent less on expenses and use 7.4 percent of its reserves to make up the difference.
Moffat County Commissioner Tom Mathers said he approached this year's budget process with one eye on the national recession and the other on Routt County's struggle with spending deficits, employee furlough days and across-the-board budget cuts.
He added that his goal was to give the county a stable foundation to weather the storm ahead when property tax revenue drops sharply in 2011.
"Luckily, we have some advance notice here," he said. "If we can lengthen the hurt over a period of time, we can remain stable here in Moffat County."
Property taxes make up about a third of the county government's annual revenue.
Because those taxes are collected two years after they're assessed, Moffat County officials know there will be a significant drop in revenue in 2011 because property assessments made this year showed a big decline in value, mostly because of reductions in oil and gas production.
With that advance warning, the commissioners and Budget Analyst Tinneal Gerber said they plan to use 2010 as a starting off point to gradually introduce spending cuts to prepare for leaner times ahead.
"My goal was that we maintain a size of government that is sustainable in the long-term," Moffat County Commissioner Tom Gray said. "Who knows what the future looks like, you know? But, as far as we can look, we have a size of government we can sustain."
For 2010, most of Moffat County's spending cuts came from capital projects, such as equipment replacement, road projects and building maintenance.
In fact, the $2 million decrease in government expenses was the result of a $2.8 million decrease in capital projects, according to an executive summary provided by Gerber.
The commissioners said the county was fortunate to have had such good financial support in the past from Colorado Department of Local Affairs energy impact grants. The grants, made up of taxes paid by the energy industry, have allowed the county to afford big purchases in the past several years, such as new heavy equipment for the road and bridge department. Mathers said the county is far enough ahead on its capital projects plan that most new expenses could be put off a year.
However, the state is out of money, and there are no energy impact grants available, at least for the time being. At the same time, the commission knows that continuing to put off new capital purchases eventually will affect its ability to ensure quality community services, Commissioner Audrey Danner said.
"We don't have any intention of doing that," she said. "You cannot continue to cut that much."
One of the most difficult tasks in future budget meetings will be how to balance an estimated $8 million in needed capital projects in the next three years with funding daily services, Danner added.
Although the 2010 budget was officially approved, the commissioners held an employee meeting Wednesday morning to tell their staff that some departments may not have as much money at the end of the year as they do now.
Gerber said she and the commission plan to continually evaluate and prioritize expenses throughout 2010, possibly shifting costs from one area to another or putting more money into reserves to cover future needs.
Danner said the commission does not intend to micromanage every county department but will focus on what services the law requires, as well as those that are higher priorities than others.
"When we go through that, we won't be looking at pencils, how many pencils you need and how many people," she said. "We're looking at what are your services, what's the priority of those services and how do we take limited dollars and put them there."