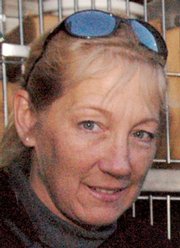 Craig — Former Craig Police Officer Kathie Johnson died of natural causes from a seizure disorder, according to an autopsy and toxicology report.
The toxicology report, which has been pending for the past few months, came back negative.
Johnson, a police department community service officer, was found dead Oct. 14 in a room at the Hotel Colorado in Glenwood Springs.
She was 51.
Johnson was out of town to attend an annual animal control officer conference. Her body was found when she didn't show up at a class and after someone went to her hotel room looking for her.
Reports of the incident stated her door was closed and that there were no signs of foul play.
Glenwood Springs Police Chief Terry Wilson said his department does not plan to investigate Johnson's death any further.
After her death became known locally, Craig Police Chief Walt Vanatta said her former colleagues were surprised and disheartened by the news.
"One, shock, and two, extreme sadness," Vanatta said in October. "They were all devastated. She was a really, really nice lady."
Faith Lutheran Church in Craig hosted a public memorial service for Johnson on Oct. 21, which about 100 family, friends and acquaintances attended.
Eric Plate, Johnson's youngest son, spoke during the service on behalf of the family and thanked those in attendance for the friendship and love they showed his mother.
"Friends and family were the biggest thing to her," he said. "You meant the world to her. She loved her job and loved the people she worked with."
Plate also spoke about his anger when he first heard of Johnson's death, and how that dissipated when he remembered his mother's favorite saying.
"She always said, 'Isn't it funny how we focus on what angers us most instead of what makes us happy?'" Plate said. "Through all of this, I've been an angry person, and until last night, I didn't take the time to slow down and mourn for my mother. I'm going to live my life by this."