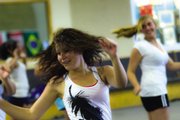 At a glance
Coach: Julie Hall, first year
Total number of dancers: 11
Seniors: 4
Craig — Julie Hall needed just one small push to become Moffat County High School dance team coach.
"My daughter talked me into it," the first year coach said. "She said 'Mom, I think you should be the coach.' When I asked her why, she said because it would be fun."
Kayla Hall, a freshman, will join her mom as two new additions to the team.
The coaching change isn't the only one the new coach expects for the year.
"This year, I want a more fresh and up-to-date look," she said. "I know our dances will look better, and the girls will be more enthusiastic.
"We're going to try to pump up the crowd a little more - get them into it a little bit more when they watch."
With three two-hour practices a week, the team has proven it is willing to put in the work, Hall said.
"This should be a fun year," she said. "We're starting new - new coach, new dances, and we're expecting to have some fun."
Not everything is new for this year, as seniors Taelor Stagner, Katy Nottingham, Lili Torres and Zaide Duarte return.
Hall said dancers have been practicing new moves all summer.
"A lot of the girls went to camps where they picked up some new dances," she said. "They've been working hard to learn new dances."
Having the young dancers try new styles and cooperate will be imperative to a successful year, Hall said.
"They will be choreographing their own dances this year," she said. "I've seen some of them, and they look good."
Hall said she wants her dancers to set personal goals.
"I want them to be responsible, and respect themselves and others," she said. "I know they will have fun, and I want them to work together.
"If they can do that, then I expect them to be successful."