Boys junior varsity football schedule
Time, Date: Place - Opponent
4 p.m., Sept. 4: home - Berthoud High School
4 p.m., Sept. 7: away - Steamboat Springs High School
TBA, Sept. 21: away - Battle Mountain High School
TBA, Sept. 28: home - Palisade High School
TBA, Oct. 12: away - Eagle Valley High School
6 p.m., Oct. 26: home - Steamboat Springs High School
Moffat County High School football schedule
Date: Place - Opponent
Sept. 4: home - Berthoud High School
Sept. 11: away - Rifle High School
Sept. 18: home - Battle Mountain High School
Sept. 25: away - Palisade High School
Oct. 2: home - Delta High School
Oct. 9: home - Eagle Valley High School
Oct. 15: away - Uintah High School
Oct. 23: away - Steamboat Springs High School
Oct. 30: home - Glenwood Springs High School
Nov. 6: away - Montezuma Cortez High School
* All games at 7 p.m.
For more
To see a Western Slope League coaches poll, click here.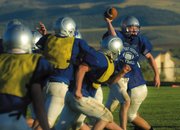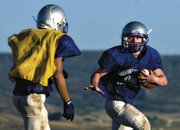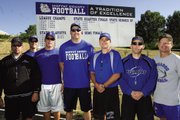 At a glance
Coach: Kip Hafey, eighth year
Last year's record: 4-6
Returning starters: 19 (10 on offense, 9 on defense)
League: Western Slope
Craig — This year, the Bulldogs' leaders will be making the push.
With a deep and experienced offensive line, Moffat County High School's varsity football squad knows it should be able to move the ball.
The offensive line, which includes Jeremiah Gordon, Gage Spears, Travis Nolan, Casey Martin, Cody Adams, Nick Bulla, Brian Ivy, Jordan Wilson, Halen Raymond and Angelo Raftopoulis, will be deep and experienced.
Head coach Kip Hafey said his ball carriers should be able to find some breathing room in the open lanes.
"We have to be successful on the offensive line and open up running lanes," he said. "If we can do that, our offense will take off."
The Bulldogs' backs should be able to claw through for extra yardage.
Fullback Pablo Salcido and half-back Jasen Kettle, both seniors, should be able to pick up yards to keep the chains moving.
Seniors Matt Linsacum and Scott Mann will provide even more offensive leadership from the quarterback and split-end positions, Hafey said.
And it's the depth of the team that has the seventh-year coach excited.
"We have 75 kids out for football this year," he said. "The last time we had that many was seven years ago, when the enrollment at the high school was over 800.
"To have this many guys at a school this size is awesome."
But, the team will have a different type of strength in numbers - the offense will return 10 starters and the defense will bring back nine Bulldogs.
With all the returning players, Hafey said it was too difficult to pick out one to watch.
"Everyone on this team has worked so hard," he said. "During the camps, the seniors and even the younger guys, really busted their humps.
"The seniors have really stepped up their leadership and brought a great attitude."
That attitude has spread over on to the defensive side of the ball, coach Lance Scranton said.
"What we've seen with our personnel, is that through sprints and strength testing we have a faster and stronger team this year," he said.
Moffat County uses a three linemen, five linebacker and three defensive back defensive scheme, and with the depth the team now possesses, finding more effective backups should be easier.
"I know the backups have been working hard," Scranton said.
Having so many seasoned players should add more to the team's play-stopping abilities.
"We have a lot of confidence because there are a lot of kids on the team this year with one year on varsity already," he said. "They know what to expect."
Hafey said having so many older players make practicing easier.
"This is a fun group of guys," he said. "These kids are focused, they've been working hard, and they're tough."
Moffat County will have its toughness tested throughout the season, with what Hafey called one of the hardest schedules in 3A.
"We'll play four or five of the top teams this season," he said.
The first scheduled game will pit the Bulldogs against a worthy opponent when Berthoud High School pays the team a visit.
"They are one of the toughest teams in all of 3A, and they looked solid at camp," Hafey said. "There were 20 teams at camp, and everyone said Berthoud looked legit."
Regardless of how it looked at camp, Berthoud should expect an improved attack from Moffat County, Hafey said.
"We know playing them will make us better," he said. "It's going to be an exciting first week of football, and we're going to go after them."
After Berthoud, Hafey said he knows the road to the playoffs won't get any easier.
With away games at Rifle High School in week two, Palisade High School in week four, Steamboat Springs High School in week eight and a home game against Glenwood Springs High School in week nine, Hafey said he knows the team will have to work hard to make it back into the playoffs.
"In our division, we know the league champion will probably come from one of those schools," he said. "Those schools are perennially in the playoffs.
"That's our goal for this season. To make it to the playoffs and make our run from there."