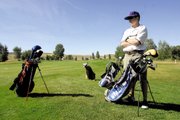 Boys varsity golf schedule
Time, Date: Place - Host
8 a.m., Aug. 17: away - Grand Junction
9 a.m., Aug. 19: away - Montrose High School
8:30 a.m., Aug. 20: away - Montrose High School
8 a.m., Aug. 24: away - Rifle High School
8 a.m., Aug. 26: away - Battle Mountain High School
9 a.m., Aug. 27: away - Eagle Valley High School
9 a.m., Sept. 2: away - Delta High School
9 a.m., Sept. 3: away - Montrose High School
9 a.m., Sept. 9: away - Steamboat Springs High School
9 a.m., Sept. 10: home - Moffat County High School
8 a.m., Sept. 14: away - Roaring Fork High School
TBA, Sept. 22: away - Regionals at Steamboat Springs
TBA, Oct. 5: away - State Tournament
TBA, Oct. 6: away - State Tournament
At a glance
Coach: Ken Harjes, 29th year
Assistant coach: Joe Padon, first year
League: Western Slope - Class 4A
Total players: 16
Steamboat Springs — Ken Harjes, Moffat County High School boys varsity golf coach, knows his team will need some balls to break the right way this season for his team to compete.
But, with hungry and hard-working players, he knows they have the work ethic.
"We will have to play well," Harjes said. "We'll be good at the top, but we lack depth.
"We have a lot of guys who are still learning the game. It's definitely not because of a lack of effort."
Overall, the golf team will be young this year, with two underclassmen in the top three.
But, a number of four-year seniors will lead the team, Harjes said.
Greg Blackstun, Ty DeGuelle, Alex McKey and Hayden's Taylor Branstetter return for their senior year.
Losing Nick Moyer and Erick Leonard to graduation will hurt, Harjes said, but having a hard working team will help fill the void.
Each class is well represented among the 16 players, with four seniors, juniors, sophomores and freshmen.
Although he is unsure of how the competition has retooled during the summer, Harjes said he knows his team will have to perform on the links to compete.
"The top of the league usually shoots below 250," he said. "Montrose has come in at 235, 236 so we know we'll need to be around 240."
To get to that point, the team will have to keep fine-tuning its approach.
"We'll be working on our short game and course management a lot," Harjes said. "I know this team has the skill to hit the ball, so course management is going to be important. Just taking what the course has to offer and taking shots we know we can make."
With a team made up mostly of underclassmen, the best way to train them is to have them play competitively, Harjes said.
"There is such a difference between going out and playing on a Saturday afternoon and playing in a tournament," he said. "There's pressure, because nobody wants to be embarrassed."
While he doesn't expect to walk away with the Western Slope Championship, Harjes said his team could catch other schools by surprise.
"If they work at it, we could be competitive," he said. "It's hard to say how far everyone has come, but we know Montrose will be good. Steamboat, Battle Mountain, Delta and Eagle Valley will be there, too."