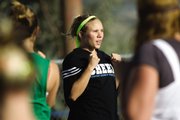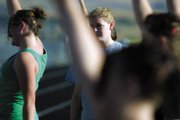 At a glance
Coach: Heather Higgins, first year
Total cheerleaders: 15
Returning seniors: 3
Craig — Heather Higgins doesn't have to drum up enthusiasm when it comes to cheerleading.
Her daughter, Jasmine, has been a cheering staple at Moffat County High School football games, and this year, Heather is helping the team.
"I've been a cheer mom for a long time," she said. "I helped out in middle school with my daughter, and I have been around it for a little bit."
With Jasmine entering her senior year, Heather, a preschool teacher at Ridgeview Elementary School, said she wanted to step in and coach.
"A big reason for me coaching is because it's my daughter's last year," she said.
Higgins replaced Naomi Villard as Moffat County High School cheerleading coach, and she already has big plans for the program.
"We're just trying to get the student body more involved, and getting them to back our girls up is important," Higgins said. "We'll have more new and exciting things for them, too."
The team started practicing daily in August to prepare for the upcoming year.
The extra practice has included working with new cheers and dances for this year, Higgins said.
"It should be exciting with the new dances and cheers," she said. "There will be lots of fun things at the football games."
The team cheers at football games in the fall and basketball games in the winter.
"We want to get everyone excited to be at our home games," she said.
The team has a good mix of old and new cheerleaders, Higgins said.
"I have, as of right now, 15 girls," she said. "I have nine returning girls, including three seniors."
Those seniors include Jasmine Higgins, Tawni Brenner and Tiara Searle.
Seniors have been leading the younger girls in practices, Higgins said.
"They are working hard to pump up the crowd," she said. "They're working hard to get the community more excited to get up and cheer."
Higgins said her team has been putting in extra work to make home games a little more special.
"Mainly with the half-times," she said. "Expect them to be bigger and better."