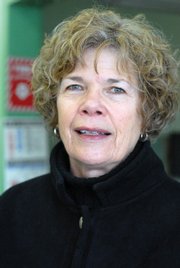 Elementary students carrying backpacks and a carefree attitude cavort by my house on their way to and from school.
The cavorting is more pronounced in the afternoon. Along the way, they shed announcements, art projects and jackets as mindlessly as trees drop leaves.
They chase one another, yell challenges, jump into puddles, and make their own rules. In the winter, they stump along with one foot on the curb, and the other in the gutter shattering ice.
When the sidewalk is slick, they back up to get a running start on their slide. Sometimes, they climb the mounds of dirty snow lining the street and attempt to shoe-ski down.
I envy their energy, imagine them enjoying the freedom of recess, and remember Barney Cornaby in third grade.
At last, our teacher spoke the magic words: "Boys and girls, it's time to get ready for recess. Clear your desks and put your heads down while I look for a line leader. Remember, quiet and cleanliness count."
I jammed "All Around the Neighborhood" into my disorderly desk, plopped my head onto its scratched surface and curled my disreputable nails into my palms.
Listening to stout Mrs. Beale strut up and down the aisles to inspect us, I mentally muttered a wish: "Choose me, choose me, choose me."
Being selected to lead the class out of the room and down the creaky hall meant a few seconds' head start on recess.
The words, "Deanne, you may go to the door," told me Mrs. Beale had once again chosen Deanne Beckstrom, Miss Perfection, as line leader.
The rest of us would have to wait until our rows were called. Mine probably would be last because Lamont Bernard never remembered to wash his ears.
I lived for the moment I emerged into recess from the heavy wooden doors of Lake Shore Elementary School to begin my race across its packed-dirt playground.
First, I sprinted by swings, slides and teeter-totters standing like weary soldiers braced for the next attack. I then circled the overflowing drinking fountain Justin Nelson had dammed with gravel and dirt - a habit he couldn't overcome no matter how much time he spent in the principal's office.
I ran through the shade of a discouraged sycamore tree and skidded to a stop on the asphalt basketball court. There, I would join hands with Barney to dance with wild abandon for the 15 precious minutes of recess.
I, big for a third grader, and Barney, who was small, danced together in perfect syncopation to tunes we sang loudly and off-key.
My long legs leaping about in diverse directions, I would twirl in delight as he bobbed about me like a drunken grasshopper.
Then I, with hem undone, scabs on each knee and unruly hair flying in tangles, would boogie around the always spiffy Barney with his pants belted high, shirt buttoned to the top and hair carefully slicked to the side.
Young and happy, we gave no thought to appearances, potential ridicule or lack of talent. Our lives had not yet been invaded by peer pressure. So we sang, "Shoo fly, don't bother me," and tap-danced with more vigor than rhythm in freewheeling fun we had not learned to censor.
I never have felt as graceful and invincible as when Barney and I twirled on our toes, floated our arms aloft, and bounded across the court in gravity-defying leaps.
It was 15 minutes of happy-go-lucky hoofing before the custodian rang the tower bell.
Then we slowly trudged from the rowdiness of the playground, through the cool darkness of the hall, past the lunchroom smelling of cinnamon rolls and into the rigid rows of our classroom, our songs and pirouettes put away until next time.