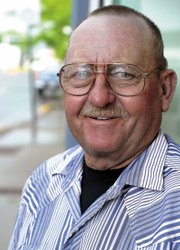 Craig — Four local World War II veterans - Bill Cook, Bill Frye, Carl Medvesk and Leonard Yoast - went on the honor flight to Washington, D.C., to view the World War II memorial.
On Monday, they left Craig, spent a night in Grand Junction and flew out Tuesday morning. The veterans returned Wednesday.
There were 120 veterans from across the Western Slope who made the trip. There were also 80 support personnel.
Veterans beware
Phony benefits are being offered that promise you money back on your GI insurance. The program is a hoax, according to the Better Business Bureau.
A form is sent out promising benefits up to $528 will be given, depending on years of service.
Another hoax involving veterans claims that people who served in the military after 1965 and were insured under Servicemembers Group Life Insurance are entitled to a refund. This is not true.
Veterans Affairs and the Better Business Bureau said this scam has been around since 1965 and surfaces every so often via the Internet.
Clinic offers variety of services
The Craig Telehealth Clinic needs more veterans to use the facilities.
Call the clinic if you need anything, and April will check on appointments or schedule one for you.
Remember, blood can be drawn here in Craig before your appointment at Veterans Affairs Medical Center in Grand Junction. Three or more days is required to get the blood to Grand Junction, so plan ahead.
The more the clinic is used, the more services it will be able to provide. If there isn't enough participation, it might close down.
Historical veteran/national dates
• July 27, 1883 - Island of Krakatoa erupts sending five cubic miles of earth 50 miles in the air. Eruption created 120-foot Tsunamis and killed 36,000 people.
• Aug 28, 1968 - Vietnam war protesters fought police at Democratic Convention
• Aug 29, 2005 - Hurricane Katrina hit New Orleans