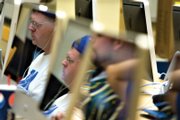 Moffat County School District teachers will start the year off armed with ideas and tools for a 21st-century classroom.
Blogs, Wikis and Skype were nonsense words to many teachers up until recently, but a staff development workshop Tuesday called "The Networked Student," helped about 30 teachers look down the path of 21st-century technology.
In the library at the new Craig Middle School, evidence of new technology's influence on education was obvious. The workshop was being conducted on a new projection screen in the back of the room.
New Mac G4 computers form two semi circles around the circulation desk, while a separate computer lab housed several more rows of computer screens.
In small, collaborative groups, the teachers worked with one another to use Web platforms to enhance learning.
One group reported on how they could use these new tools, which the program called "Web 2.0," to connect to the world on a higher level.
Dave Grabowski, a math teacher at Moffat County High School, talked about a program called Skype.
Skype acts like a video phone call via the Internet. It's free to call other Skype users and can be used internationally. For example, an English class could interview an author of a book they're reading, Grabowski said.
"Or if a classroom is studying the economy of China, they could Skype with a classroom in China and interact with them to get a real idea of what is going on," he said.
Some teachers already had a lot of experience making blogs and Wikis, enabling their students to interact with their class from any computer.
But for some teachers, blogs and Wikis sound like a foreign tongue.
Cindy Morris, who teaches consumer sciences such as infant and toddler care and home economics, was thrilled to begin her education in online learning tools.
Morris said having a Wiki might allow her students to ask questions that they might not want to approach her about with other students around.
She said it would make a big difference to not have the pressure of other students when they are curious about a topic.
"Teenagers might not want others to see or hear them asking questions. It will give them another avenue for them to learn," Morris said. "Especially those shy kids."
It's a learning experience for Morris, as well, who doesn't yet have a computer at home.
She has computer at work, but after learning about the possibilities, she is hoping to invest in a computer or a laptop so she can stay on top of the Wikis and blogs she hopes to maintain for her classes.
"It's another way for me to have a relationship with my class," Morris said. "I think it will give kids more of a way to connect."
Ann Charchalis, a math teacher at Craig Middle School, also sees using interactive Web programs as an important tool in the 21st-century classroom.
"I want to use it to expand on problems we're working on already," Charchalis said. "I want to make it more project-based, where students can post their work, explain how they did the problem and other students can comment on it."
She said this way her students can fine tune their work and learn from others.
"It's a real world application," Charchalis said. "If a student has a job someday where they're using math, they're not going to be doing it with a pencil and paper. They're going to be using programs like Excel."