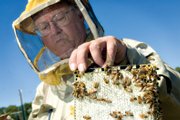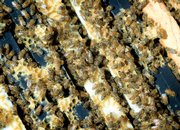 Honey scraped from a beehive tastes bright on the tongue. Sweet. And the comb chews like bubblegum.
It's not the same honey that comes in little plastic bears at the supermarket.
It's different. Flowery, from the pollen mixed with the bees' saliva.
Steve Smith, 61, has been farming fresh honey for the past 35 years, taking it from hives he cultivates throughout Moffat County.
About four times a week, he sticks his bare hands in wooden boxes, filled with honeycomb frames and covered with European honey bees, without a hint of fear or anxiety.
It's not that the stings don't hurt. Smith said he can feel the sting as well as the first time, but it doesn't serve any purpose to be afraid.
"Like any animal, I guess, if you're afraid, they know it," he said. "If you make them angry or nervous, they put off a pheromone that smells like banana oil that warns others. You get a couple that sting you, you start acting fast, and then it pretty much goes downhill from there."
Smith said he has 62 hives from Maybell to Elkhead Reservoir and sells his honey under his Yampa Gold label.
It's not the profession he envisioned for himself when he moved to Moffat County in 1963.
"I came over here a cowboy," Smith said. "They don't need many cowboys anymore. They've got people on motorcycles and everything else now."
Still, even though he's in the insect business, it's similar to most livestock and farming ventures.
He treats the bees for infections and parasites, and he deals with honey robbers. He watched as large corporations began to market honey sauce - 40 percent honey, 60 percent corn syrup - as actual honey.
But these hives are his, and he's not planning to give them up, even under daily threat of being stung by a violent swarm of bees.
Smith said he used to be macho about it, wearing a T-shirt and shorts out to the hives, until one day he came up on an angry hive and left with his arms and legs stung so much, they turned white.
"You could take a scraper and run it down your arm, and it'd leave a white trail where all the stingers came out," he said.
He knew he could die from that much venom, so his daughter stayed up with him that night to make he sure he didn't fall asleep.
Smith said he went to work the next day, but he was so swollen his boss wouldn't let him stay. In fact, he tried to make Smith go to the hospital.
"I told them I could still walk so they weren't taking me anywhere," Smith said. "I went out and took care of some more hives."
As a beekeeper for almost half his life, Smith is full of random facts.
For instance, bee queens mate in midair with as many as 15 males in one flight, Smith said.
When the queen pushes off, it rips out some of the males insides, killing him almost instantly.
"You can hear them doing it," Smith said. "When a male runs into a queen in midair, it sounds just like a .22 shot."
On Friday, after about an hour and half, Smith has loaded about 60 pounds of honey onto his truck. He'll come back in the next few days to gather more, and maybe a little excess pollen, which is sold as a health supplement or to combat allergies.
When asked whether he knew some people would think his job was crazy, Smith mumbled an affirmative. He has no plans to quit, though, even if the business carries no risk of making a fortune.
"I like this," Smith said, looking up from a honeycomb frame through the wire mesh of his bee veil. "I like working with the bees. I'd work with the bees everyday. They don't bother me."
Smith said he'd work with people, too, but they can get on his nerves.
"I'll work with both, but bees are less frustrating to me," he said. "I have a hard time with people. They don't seem to want to work anymore."
As he talked, thousands of honey bees busied themselves inside the hive, dragging honey deeper into the honeycomb to keep away from potential thieves.