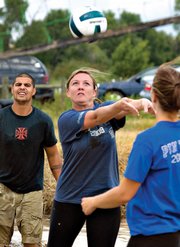 They came, they played, they got dirty at the same time.
More than 60 players showed up for the Craig Chamber of Commerce's 10th annual Mud Splash mud volleyball tournament, which was played despite rain.
The players already were soaked from wading in the knee-deep waters west of Loudy-Simpson Park.
Joe Muldoon and his team, The Muddy Green Machines, was one of the competitors in the Chamber's annual fundraiser.
Muldoon said the mud was the biggest challenge of the day.
"It's very cold and wet," he said, "and not forgiving."
The state of the mud explained why Muldoon and the rest of his teammates were wearing bright neon green duct tape over their shoes and on their feet.
"It's uneven and rocky at the bottom," Muldoon said. "I think I lost a U-joint in there once."
John Balzer, also of The Muddy Green Machines, said the tape was a precaution.
"If you don't put duct tape on, you're going to get pebbles in your boots," he said. "Plus, it's really stylish."
Muldoon said he didn't have to be coaxed into joining.
"It was really a high-pressure situation," he said.
Balzer said he wasn't pushed into joining.
"It's just a good time," he said. "You get to come out here, and dress like an idiot and get soaked in mud."
In its first game, The Muddy Green Machines was able to dispatch the Mathers team.
"We gave it our all and came out on top," Balzer said. "And we destroyed the Mathers team."
Jessica King and Erin Mathers-Call were on the Mathers team and said external factors - weather, lack of eyeglasses - contributed to the loss.
"I also lost a shoe in the mud," King said.
"I just had duct tape on my feet," Mathers-Call said. "Even though the bottom is rocky and terrible, I think for the next game I'm just going in barefoot."