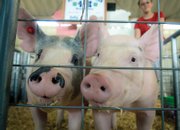 Fair schedule
Today, Moffat County Fairgrounds:
• 7:30 to 9:30 a.m. Free pancake breakfast served by FFA - covered picnic area
• 8 a.m. Check-in of breeding beef - livestock barn
• 9 a.m. Breeding beef show - livestock barn
- Youth division
- Open division
• 9 a.m. Tractor driving contest - midway
• 10 a.m. to 6 p.m. Hall of Education open - under the grandstands
- Pet parade - grass area
- Single disc golf tournament - grass area
• 10 a.m. to noon. Taking entries for Wine and Beer Contest - Pavilion
• 10 a.m. Gingerbread House Decorating - midway
- Live entertainment - midway
- Entries due for Cowboy Baby Contest - barn office
• 10:30 a.m. Lawnmower races - track
• 10:30 a.m. Double disc golf tournament - grass area
• 11:30 a.m. Cowboy Baby Contest - livestock barn
- Turkey bowling - midway
• Noon. Sheep lead contest - livestock barn
• Noon to 1 p.m. Taking entries for salsa contest - Pavilion
• Noon to 2 p.m. Set up for sale - livestock barn
• 12:30 p.m. Wine and beer judging - Pavilion
• 1 p.m. Watermelon eating contest - track
• 1:30 p.m. Salsa judging
• 1:30 p.m. First annual miniature bull riding competition - arena
• 4 to 6:30 p.m. Live music - midway
- Community barbecue - covered picnic area
• 5:30 p.m. 4-H and FFA Awards - livestock barn
• 6:30 p.m. 4-H and FFA Junior Livestock Sale - livestock barn
• 10 p.m. to 1 a.m. Dance sponsored by the Moffat County 4-H Council - covered picnic area
For some, showing livestock at the fair is competitive.
For Stetson White, of Craig, it's just a "blast," but he walked away with some ribbons, as well.
White, 18, is a 2009 Moffat County High School graduate and has been showing steers for about five years.
With his smoky-colored calf, Stainless, he won first place in his class, the smallest sized steers.
In the market beef show, steers are assessed for the quality of their form and fitness.
Stainless also helped him win grand champion in the Senior Showmanship class.
He is quite partial to Stainless, especially in the showmanship categories, because he is easy to handle and keeps his cool in the ring.
"He's just the best steer I've ever had," he said. "He just really behaves himself."
His younger sister, Brice White, 13, received third place with her steer, Seven, in the same class.
"He's good, he just doesn't quite have a lot of meat on his ribs," she said about Seven. "You really have to work with them a lot, and feed them right."
Stetson and Brice love spending time around animals.
"These guys really have a lot of character," Stetson said, gesturing over at Stainless, who was quietly munching on his post-show meal. "This guy really gives me a hoot. He's just a blast to be around."
Rabbit agility
In a grassy area of the Moffat County Fairgrounds, several children gathered around a shady tree cuddling rabbits to their chests.
Taryn Gettling, 9, held onto her rabbit Brooke, a pet she has owned for only 24 hours.
Taryn won Brooke on Thursday in a contest involving picking up rabbit droppings with chopsticks. She advanced to the championship round where she went on to win her pick of rabbits by beating competitors much older than she.
On Friday, several rabbits took to the agility course, which included a tunnel - owners usually put their rabbits inside, then picked up the tube so they slid out the other end - a ladder and a few fences to "jump" over.
Most of the obstacles required significant assistance by the rabbit handlers.
"They don't really like it," Will Pilgrim, 14, said. "They just kind of flop around."
One girl's rabbit had the speed but ran in the opposite direction of the course, while its owner chased after it.
In the agility course Will won third place with his rabbit, Tulips.
He has been training his rabbits all summer on the same course used in the competition.
His friend, Wyatt Oberwitte, hoped to have the same luck with Smores, a speckled brown, white and black rabbit, but Smores refused to move and held his ground, forcing Wyatt to give up.
"I guess he just doesn't have the athletic ability that other rabbits do," he said to Will.
Round Robin
Those who had won first or second in any of the showmanship classes of sheep, steers, pigs and goats were invited to compete in the Round Robin event, taking showmanship skills to a new level.
Competitors, which included junior, intermediate and senior age groups, had to demonstrate their abilities by showing a pig, goat, sheep, steer and horse.
Trish Snyder, whose 12-year-old son, Tanner, qualified for the competition, normally showed pigs but was tested with much bigger animals.
"He's never showed steers before, but he was thinking about doing it next year," Snyder said. "This gives him the experience."
She said he was a little nervous before the competition, which gives the competitors eight minutes at each station.
While handling the pig he was given, he was bitten.
But, Tanner shrugged it off and moved on to the goats, pigs, steers and horses.
"It was cool," he said about showing the steers for the first time. "They told me if the steer leaned into me to just push him with your shoulder and show him who's boss."
Snyder said by raising animals at their house, and growing all of their own meat, her children learned respect for the animals and gained insight into the agriculture lifestyle.
"This way they can figure out if it's something they really want to do," she said.