Results from the National Little Britches finals from July 27 to Aug. 1 in Pueblo
Name, event, World rank
Gabbi Steele, breakaway roping, 40
, Goat tying, 47
, Trail course, 7
, Pole bending, 20
, Team roping, 50
, All around, 19
Denton Taylor, team roping, 7
, Breakaway roping, 31
, Goat tying, 73
, Flag racing, 4
, Ribbon roping, 41
, All around, 16
Dusty Taylor, team roping, 7
, Breakaway roping, 13
, Goat tying, 67
, Flag racing, 61
, Ribbon roping, 27
, All around, 34
Cutter Barnes, team roping, 21
, Breakaway roping, 22
, Goat tying, 62
, Flag racing, 54
, Ribbon roping, 4
, All around, 36
Casey Barnes, team roping, 21
, Breakaway roping, 22
, Goat tying, 22
, Flag racing, 20
, Ribbon roping, 4
, All around, 12
Trent Vernon, team roping, 51
, Breakaway roping, 31
, Goat tying, 32
, Flag racing, 17
, Ribbon roping, 37
, All around, 57
Kasen Brennise, breakaway roping, 64
, Goat tying, 94
, Flag racing, 61
, Ribbon roping, 61
, All around, 111
Taylor Duzik, breakaway roping, 54
, Barrel racing, 70
, Goat tying, 51
, Trail course, 36
, Pole bending, 76
, Ribbon roping, 37
, All around, 59
Mattie Jo Duzik, barrel racing, 80
, Goat tying, 87
, Trail course, 44
, Pole bending, 64
, All around, 80
Jaidyn Steel, barrel racing, 1
, Goat tail untying, 5
, Pole bending, 20
, Flag racing, 6
, All around, 2
Kinlie Brennise, barrel racing, 7
, Pole bending, 20
, Goat tail untying, 11
, Flag racing, 22
, All around, 14
Danielle Freeman, ribbon roping, 27
Kylie Haas, ribbon roping, 41
Chase Bowers, ribbon roping, 61
Troy Vernon, team roping, 43
, Bull riding, 7
, all around, 29
Eric Fleming, team roping, 46
, Bull riding, 35
, Steer wrestling, 18
, all around, 66
Taylor Vernon, goat tying, 21
, Trail course, 35
, Pole bending, 55
, Team roping, 43
, Barrel racing, 26
, Breakaway roping, 22
, All around, 29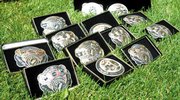 Any barrel racers returning to the National Little Britches Rodeo's Little Wranglers division can breathe easier.
The champ is leaving.
But, Jaidyn Steele's departure from the Little Wranglers division means one thing.
Watch out, junior girls.
From July 27 to Aug. 1, Jaidyn, 8, took top honors in the Little Britches 2009 finals in Pueblo for barrel racing. Her dashing performance not only won her first place in the Little Britches world ranking, it also netted her a saddle, 14 belt buckles, scholarship money and enough pairs of jeans that her father, Bret, might not have to take her back-to-school shopping.
"It was really fun and exciting," she said.
Part of her success came from upgrading her horse.
"I have a new horse, Ross," she said. "He's really fun to ride because he's fast. He's a lot better than my old horse."
Jaidyn's success wasn't just because of a new quarter horse, however.
"I practice every day," she said. "I work hard."
Jaidyn's mom, Sheli, said the family's ranch south of Craig serves as the perfect place to practice for Jaidyn and her older sister, Gabbi.
Bret also acts as his daughters' rodeo coach.
"My whole family, all my sisters are involved," he said. "For the finals, my parents had nine out of 12 grandkids compete."
Riding a horse comes naturally to Jaidyn - she was adept at fitting her boots in the stirrups before she could pedal a bike.
"I've been riding since I was 2 or 3," she said.
Bret said rodeos are as much about friendship as competition.
"I know the girls love going because they get to see all their friends," he said. "As soon as we arrive, the girls are out of the truck, looking for their friends.
"It really is like family."
When the extended rodeo family isn't close enough, the Steeles could look around and surely find a relative.
The Steele family tree looks like Moffat County's rodeo roster.
Jaidyn's cousins include Casey and Cutter Barnes, Dusty and Denton Taylor and Troy, Taylor and Trent Vernon.
A number of her relatives finished well, including Gabbi Steele, who finished seventh in the trail course and 19th overall.
Denton and Dusty Taylor finished seventh in team roping, and Cutter and Casey Barnes finished fourth in ribbon roping.
As she leaves for the junior girls division, which features girls in their young teens, Jaidyn said she wouldn't be nervous competing against older cowgirls.
"I'm just excited to do the trail course," she said. "I want to keep doing this as long as I can."