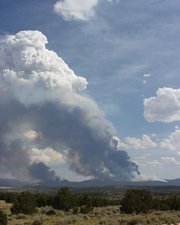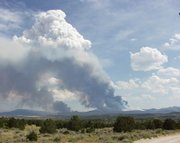 Firefighters working on a wildfire 20 miles west of Maybell reached 50 percent containment Tuesday, the Northwest Colorado Fire Management Unit reported.
The Allred Fire, which began about 4 p.m. Monday, encompasses 2,500 acres - down from the original estimate of 3,000 acres - of private land and Bureau of Land Management ground.
Full containment is expected by Thursday night.
Firefighters think lightning caused the fire, which is burning grass, Ponderosa Pine, and piñon and juniper trees.
Incident commander Dale Beckerman reported minimal fire activity Tuesday and no perimeter growth.
"Smoke today was from interior islands of unburned vegetation igniting," the Fire Management Unit reported in a news release Tuesday night. "Natural barriers, like bare ground and sparse fuels, aided in keeping the fire from advancing. The fire received sustained winds of up to five to 10 miles per hour with gusts up to 20 miles per hour. Low fire activity is expected (today) with similar weather conditions forecast."
On Tuesday, fire crews worked critical portions of the fire while air tankers held areas the crews could not access.
The fire is not threatening structures.
Agencies and departments involved in fire efforts are Moffat County Road and Bridge, Moffat County Sheriff's Office, BLM, National Park Service and the Fish and Wildlife Service.