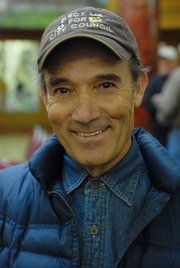 City v. Reina, Reina v. City timeline
Francisco Reina's legal struggles with the city began almost two months after he lost his bid for Craig City Council in April.
In months following the election, he was prosecuted by the city, hired the American Civil Liberties Union, filed a civil suit against the city and possibly changed the landscape of local politics.
Below is a timeline of events:
• April 7: Francisco Reina places last out of six candidates for Craig City Council in the 2009 municipal election. He garners less than 5 percent of the vote.
• April 13: Reina files a campaign expense report with the city that states he spent $1,512.78, more than three times the $500 spending limit in the city charter.
• May 26: The Craig City Council votes, 6-0, to have City Attorney Kenny Wohl cite Reina for overspending, despite Wohl's statements against prosecution.
• May 27: A Craig Police Department officer cites Reina with a Class A municipal violation, which carries possible penalties of up to a $1,000 fine and as many as 180 days in jail.
• June 15: A legal team led by the American Civil Liberties Union files a civil suit against the city in Moffat County District Court on Reina's behalf. The suit claims the city's spending limit violates the right to free speech, and cites a 1976 Supreme Court decision as its basis.
• June 17: Reina appears for his municipal court date. Wohl dismisses the case.
• July 14: The City Council unanimously approves the final reading of an ordinance to let voters decide whether to repeal the charter's spending limit in the November general election.
• July 31: Attorneys for Reina and the city agree to settle the civil suit out of court. The city will pay $2,243.50 to cover Reina's legal fees, and agrees to void the charter's spending limit, regardless of the November ballot.
Francisco Reina, a candidate for Craig City Council in the April 2009 municipal election, may have changed the landscape of city politics, despite coming in last place in his bid for local government.
After 115 days of legal wrangling, the city's 50-year-old campaign spending limit is gone for the foreseeable future.
Attorneys for the city of Craig and Reina agreed Friday to an out-of-court settlement that voids a city charter provision limiting a candidate's personal contributions to his or her own campaign to $500.
According to city officials, Reina was the first candidate in Craig's history to spend more than the charter allowed.
Thus, when the city cited him for a Class A municipal violation for overspending during his campaign, he also was the first person to take the issue to court.
Reina's attorneys, led by the American Civil Liberties Union, said the spending provision violates the right to free speech, citing a 1976 Supreme Court decision known as Buckley v. Valeo as the basis for their position.
In the end, the city's attorneys agreed and signed the settlement.
Reina, a 64-year-old retired soccer coach, said he looks back on the past few months with pride.
"I'm proud of running and what I did after," he said. "I think the best thing I did was give people a chance who may not be known by many people to be elected. I'm pretty happy I was able to change that for now."
He added that he does not plan to run again but will instead either spend more time with his son in Denver or move back to his native Spain, where Reina immigrated from about three decades ago.
Not everyone is glad to see the spending limit disappear, however.
Mayor Don Jones is unsure what the community's political future will look like, but he's concerned about one possibility.
"Maybe someone comes in here with some kind of an agenda and plops down $20,000 to buy the election," he said. "It could happen."
The mayor isn't the only local politician who fears what unlimited campaign funds may do to future races for city positions.
"People are tired of campaigns being won or lost in the media : because of advertising," City Councilor Jennifer Riley said. "This law has been on the charter for 50-plus years. I think people were comfortable that candidates couldn't spend thousands of dollars to win elections."
It will be interesting to see what the community says in November, she added.
Craig's charter can only be changed by local voters. Therefore, the City Council unanimously approved an ordinance this month to create a ballot question for the Nov. 3 election that asks voters if they want to delete the charter's spending provision.
"I think it will speak loudly if the community votes to keep it on," Riley said. "We can't enforce it, but it may be something this community supports."
However, there is a loophole that may allow Craig officials to institute a similar provision in the future. According to the court settlement, the city is free to restrict campaign spending if and when the Supreme Court reverses Buckley v. Valeo. Jones said he doesn't think that's impossible.
"I think the jury's still out," he said. "Some of the lawmakers think it was a bad decision, and some think it was a good one. I don't think it's a full consensus."
Certainly, Jones disagrees with the court's ruling. If the November election was today and he had to vote on whether to delete the spending provision, Jones said he would vote no.
"I think the $500 limit is fine," he said.
The mayor also is not convinced that the community cares as much about the issue as the ACLU or local media.
"Where was everybody when we were redoing the charter three years ago?" Jones said. "Where was the media then : moaning about it being illegal?"
He and Riley said they would handle the situation the same if they had it to do all over again, even though the ACLU eventually sued the city.
"It was one of those things where, either way, we're in trouble," Jones said. "Whether we prosecute him or not, we were going to be in trouble."
The two said they took different lessons from what happened.
Jones and Riley are at opposite ends of their careers in city government.
The mayor has been on the council since 1995. Riley was elected to her first political office four months ago.
Jones said the importance of getting the details right in any decision was reiterated to him, though he again stressed that not many people seem to care about the campaign expense debate.
"I think we had more people at council for laser pointers than we did this," he said.
Riley said she was shown that inefficiency in government is alive and well.
"We couldn't just agree that we won't enforce the spending limit, we had to put it on the ballot," she said. "No matter what happens in the election, we still can't enforce it, but we have to pay for the election.
"It's not a lot of money, but that's just throwing good money after bad."