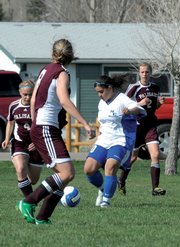 If you go
What: MCHS v. Eagle Valley
When: 11 a.m. Saturday
Where: Woodbury Park
Craig — Playing shorthanded and against an opponent that had already defeated them, the Moffat County High School girls soccer team was shut out, 3-0, Thursday afternoon at Woodbury Park.
Still, coach Nicole Dolence looked at the brighter side of things coming from her team's loss to Palisade.
Her team, which was missing a few players because of grades, illness and other reasons, faired admirably considering some girls had to play out of position.
"People were playing positions that maybe they weren't used to," she said. "That gets hard when there isn't a sub."
And, the Bulldogs made strides on the field considering Palisade had beaten them, 5-0, earlier in the season.
"The score (Thursday) was better than the last time we played them," Dolence said.
Palisade scored two goals in the first half and "kind of a fluke goal," as Dolence called it, in the second half, accounting for the game's final margin.
Moffat County was inconsistent with the ball, Dolence said, and couldn't muster much of an offense.
"It's kind of the same thing - we need to make better passes," she said. "We need to control the ball better."
The loss kept MCHS winless for the season.
However, with the next game on the horizon, the Bulldogs don't have to wait long to get another chance at breaking into the win column.
They are scheduled to play at 11 a.m. Saturday against Eagle Valley.
It's a game Dolence said her players are excited about.
In March, early in the Bulldogs' season, MCHS and Eagle Valley played to a 2-2 tie at Eagle Valley. The game went into overtime.
This time, playing on their home field, MCHS is looking for a different result.
"They're really confident," said Dolence about her players. "They think they can beat them. But, we shall see."