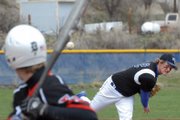 The Bulldogs dropped both Saturday games to the Demons, 10-0 and 11-1. The losses lowered the Bulldogs' record to 1-9 overall and 1-5 in the Western Slope League.
"We were outplayed considerably," MCHS skipper Tim Hafey said. "They were a very good team, and we didn't play well."
The team now prepares for a hefty portion of its schedule - four doubleheaders in the next eight days. MCHS plays at 2 and 4 p.m. Thursday at Delta. Remaining contests are set for Saturday against Battle Mountain, April 27 against Palisade and April 28 against Rifle.