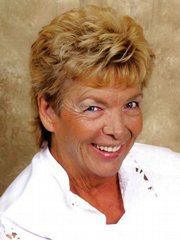 Craig — William Brown from Missouri ran away from home when he was 14. In order to hide his whereabouts, he always told a story that he was born and raised in a different town than where he actually was.
He worked his way around, met and married Catherine Wagner and bought a little farm in Minnesota. Along with farming, Grandpa had a still, and folks from miles around came to buy his fine brew. No matter how hard the sheriff tried to catch Bill, he just couldn't find the hidden still.
Times were good.
Into the picture stepped a crooked banker. One day when Grandpa was in town, the banker went to the farm and told grandma, "Bill borrowed some money, and I need your signature on this paper as well as his."
End of story? Nope! Unbeknownst to Grandma and Grandpa, Grandma had signed the farm over to the banker. So, the day of the big auction arrived. A huge crowd gathered because everyone really liked the Brown family and felt the pain at losing their home.
Everyone learned a lot that day, but mostly they learned that when someone does a dirty deed to someone else, it doesn't always turn out the way they expected.
Every bidder at the auction bid exactly $1 on everything from the farm. When the auction was over, they returned the items back to Grandpa. Yes, big lessons were learned that day.
And everyone felt that the best part of the whole day was that the sheriff had stood all day long, in the barn, right over the top of the hay strewn trap door that housed the still.
With no farm to live on, Grandpa loaded up the horses, a cow and machinery onto a train, along with his family and headed to Iowa where he acquired another farm. And now they were facing a new obstacle in life - the Great Depression.
Catherine Shoenhair, who now resides in Maybell, was born in 1921, so she was about 7 or 8 when they moved to Iowa.
More little mouths kept showing up, and everyone had to pitch in to help. Again, Grandpa and Grandma lost things because of hard times.
There was a severe drought, bugs and grasshoppers, which destroyed crops and left no food. Two brothers were gone away. One brother was in CCC Camp and sent home $25 a month for 10 people to survive on.
Cathie remembers going to bed many nights with her brothers and sisters having nothing to eat. They had no shoes, and the girls wore coveralls. Sometimes, Grandma would stir up flour and water and cook it until thickened for everyone to eat.
It was called "Hasty Pudding."
After the drought, Grandpa got a big garden started and things started improving a little. People would drive out and buy vegetables. Grandpa was very proud of his big garden. Cathie had to drop out of school in eighth grade to stay home and work, as did many kids in those days.
One night, someone came and did a lot of damage to Grandpa's watermelon patch. Grandpa took his shotgun the next night and went out to wait. Sure enough, the watermelon crook returned. So Grandpa fed the perpetrator a "shotgun sandwich."
Turned out to be a neighbor man, who later remarked he'd lost his taste for mellons.
Grandpa went into town and turned himself into the sheriff. Told him that he wouldn't have to look far because the guy was over at the hospital getting the buckshot dug out of his butt. The sheriff looked at him and said, "Now Bill, you know you aren't supposed to do this, but you do have a right to protect your property!"
Grandpa never had watermelon thieves again.
A couple of years ago, my aunt was in Missouri looking for family history when she spotted a truck with the words, "Comstock Farms."
Knowing there were Comstocks involved, she burned a U-turn and chased the guy home, jumped out asked a couple of questions. Sure enough, Grandpa's history was uncovered.
So, with the talk of depression these days, look around at the old folks.
Make friends with them. They will keep you entertained with stories and give you many tips and ideas about how to get through the hard times. You will learn a lot and cheer up a lonely life. Both of you will be richer in your efforts.
Grow your own veggies, even if it's a couple pots in your window. Where there is a will, there is a way, and you will make it.