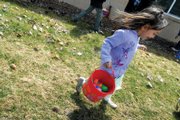 They watched the clock closely.
Children huddled around three sets of doors, waiting for 2 p.m., when they would be unleashed.
The bell tolled, and like a flash, they were off.
Despite rainy weather, more than 100 local youths scoured the grounds at Sandrock Ridge Care & Rehab in Craig, searching for more than 1,000 Easter eggs.
The eggs, decorated in a rainbow of colors, filled the kids' baskets in a matter of minutes.
The event is an annual happening at Sandrock for children as old as 12.
To keep things fair, the hunt was broken into age groups: birth to 4, 5 to 8 and 9 to 12.
And to keep things interesting, a gold and silver egg containing gift cards were hidden among each age group's eggs.
Alexis, 12, and Angelica Martinez, 11, tore into their eggs after the egg hunt, releasing the candy from the inside of its multi-colored shell.
Angelica said searching for the gold and silver eggs was her favorite part of the hunt, but she wasn't lucky enough to find one.
Some may have been disappointed they didn't find a gold or silver egg, but it didn't show as they tore into their baskets with the other children.
Craig resident Lona Hillewaert brought her son, Trenton, 8, and niece, Hailey, 2, to the Sandrock hunt.
What sets it apart from other Easter-themed children's activities is that it allows her to spend time with her grandmother, Peggy Birch.
"They thoroughly enjoy spending time with her, and she loves to see them." Hillewaert said. "It's a win-win situation."
Mary Gillingham, Sandrock recreation and leisure director, echoed that sentiment.
She said the hunt is designed to provide family fun, but more than that, the event also seeks to embrace family connections.
"The majority of the residents here have been long-time members of the community and still have family here." Gillingham said.
"It's fun for the kids and family in town, and it brings a smile to the residents."